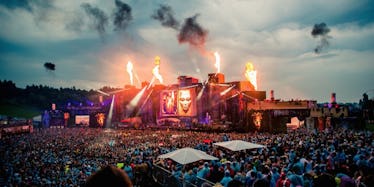 TomorrowWorld's Star-Studded Phase 1 Lineup Looks Incredible
The TomorrowWorld music festival just announced its phase one headliner lineup, and it is a doozy.
First things first, the festival will be held in Atlanta from September 25 through September 27 of this year.
Now here's the good stuff. The acts performing at the festival include Afrojack, Armin Van Buuren, David Guetta, Hardwell, Martin Garrix and Tiësto -- just to name a few.
TomorrowWorld is especially awesome because it is officially endorsed by the United Nations.
Ban Ki-moon, the secretary-general of the UN, spoke about the excellent example being set by the festival.
He said,
Young people today are growing up in a world full of change. TomorrowLand demonstrates that it's possible: tens of thousands of people coming together in peace and respect for one another to share a weekend. 210,000 messages from all over the world have been incorporated into the One World bridge and we are pleased that our message can be one of them. Let's work as one towards dignity for all, a message for the People of Tomorrow and for all young people in the world.
So without further ado, here is the official flyer released by TomorrowWorld: