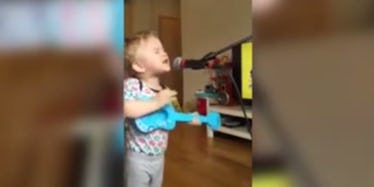 Adorable Toddler Sings His Heart Out To Ed Sheeran And Sam Smith (Video)
Watch out, Ed Sheeran and Sam Smith. There's a two year old out there who may overtake both of you as Britain's most popular singer.
Videos have popped up online of an adorable toddler named Daniel Breki McCollough singing along to Sheeran's "Thinking Out Loud" and Smith's "Lay me Down."
In both videos, little Daniel is joined by his mom's boyfriend on the guitar. You have to admit, Daniel is the real star of the show. He has his own toy blue guitar and he knows how to belt these tracks like a pro.
I wouldn't be surprised if this kid grows up to be a Grammy winner one day. But, for now, check out his pipes in the videos below.
Here is Daniel singing Ed Sheeran:
And here he is with his rendition of "Lay me Down" by Sam Smith:
Citations: Watch this adorable toddler sing along to Ed Sheeran track (Daily Mail)