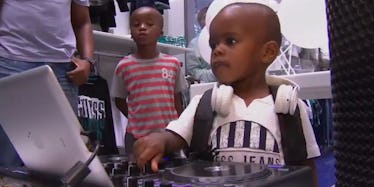 This 2-Year-Old DJ In South Africa Is Better Than Everyone At Coachella (Video)
You probably haven't heard of DJ AJ. But, don't feel too bad.
In all likelihood, your ignorance stems from the fact that DJ AJ is a 2-year-old boy living in South Africa.
AJ may very well be the world's youngest DJ.
Though it may seem as if he is haphazardly playing with a mixer, AJ is definitely in control of his music.
The young disc jockey started spinning when he was only a year old. He was playing with his father's mixer and had impeccable senses of timing and rhythm.
As AJ gets older, he continues to hone his skills and has become something of a social media phenom. Even at his young age, he reportedly has an amazing 25,000 Facebook fans.
The future is bright for this young DJ. Who knows what he could accomplish if he sticks with it?
Citations: Meet The Two Year Old DJ Taking South Africa By Storm (Huffington Post)