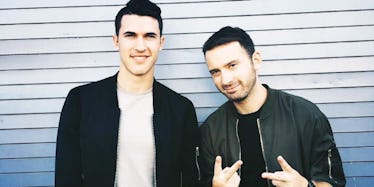 Timeflies Is The Only Set You Need To See At Billboard Hot 100 Fest
Instagram
For Rob Resnick and Cal Shapiro, Tuesdays are about much more than posting shitty "look how good I look!" transformation pictures on Instagram.
The duo formed in 2010, called themselves Timeflies and quickly became known for their pop freestyle originals and YouTube covers released every Tuesday.
Over the past six years, Timeflies has sold over 150,000 albums and 800,000 singles and surpassed 175 million video views and 200 million Spotify streams across the globe (in addition to being the frat soundtrack of my college years).
Resnick, 27, produces the hits and Shapiro, 27, bring the music to life with creative pop-culture-infused freestyle and incredibly catchy original songs. (Personal favorite: "All The Way," as heard in the trailer for "My Big Fat Greek Wedding 2.")
Sorry, this isn't about Toula Portokalos and Ian Miller... moving right along.
Resnick and Shapiro were labeled "musical masterminds" by Vanity Fair and have taken the stage at "Good Morning America" and "Jimmy Kimmel Live!" They just announced their upcoming The Party In The Basement Tour, which will hit 10 cities across the United States.
The guys have a big weekend ahead of them as they are set to perform at the Billboard Hot 100 Fest this Sunday.
I had the chance to speak with Cal and Rob this week in anticipation of their upcoming set, and fans certainly have a lot to look forward to.
How did the two of you find each other and get started?
Cal: We went to college together... and we were drinking at a party and I just started freestyling. We were in a band together from there and then we started putting out music on Tuesdays, released originals, started blowing up on the blogs and, yeah, just doing our thing.
How'd you come up with your name?
Rob: So, we're terrible procrastinators and also have a terrible concept of time. I mean, I'm thrilled we both got on this call. We're the worst. Our friends started calling us Timeflies because we would always say, 'Oh, time flies,' when they would ask us if we were ever going to finish a song. So it kind of just stuck.
What's a typical Tuesday like for you?
Rob: Tuesdays are bad, but Mondays are really bad. That's when we do the bulk of the recording. So we'll figure out what type of song we want to do, if we want to do a capella or if Cal's going to freestyle, and then on Tuesdays, we're checking with our video guy and making sure it all looks good and then hyping it up on Twitter.
How would you label your genre of music?
Rob: I think we make pop-dance-hip-hop, and I think a lot of people are starting to get on that with big drops, catchy choruses and rhythmic verses.
If you had the opportunity to collab with any artist, who would it be?
Cal: I always love writing with other people, but in terms of collabing, because I sing and rap, it opens the door for female vocalists. To give you an answer: down for some Rihanna.
Rob: I personally would really love to collab with Regina Spektor, but she hasn't returned my calls.
What can your fans look forward to this weekend at the festival and in the future?
Cal: We've got a lot of stuff coming up. We're releasing a new song soon, announcing a tour, we're headed to Europe, so our fans are going to get a crazy show... We're just going to soak it all in. And you better be out there, it's going to get wild.
Rob: I think we're both really excited to be there, get hyped up and party afterwards.
Make sure to follow @elitedailysnap this weekend for full coverage and exclusive interviews with Timeflies Tuesday at the Billboard Hot 100 Music Festival!