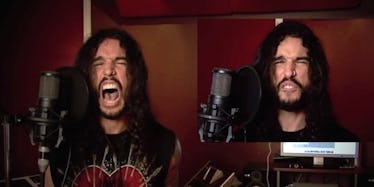 Man Sings 20 Love Songs In 20 Different Styles For Valentine's Day (Video)
The "Ten Second Songs" singer is back with a sweet setlist in time for Valentine's Day.
Instead of covering one song in 20 styles, he brought back 20 love songs for the ultimate mushy mashup.
Internet rockstar Anthony Vincent, who first hit the Web with his rendition of Katy Perry's "Dark Horse," continues to experiment with artist impressions -- from Ed Sheeran to Elton John.
If you want some entertainment this Valentine's Day, try covering your eyes while trying to guess the artist he's impersonating.
Or, you could just stare at his luscious locks and cool Valentines Day shirt, it's up to you!
For more on Anthony, check out this episode from our Original Series: #NoFilter.