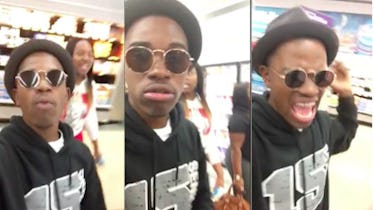 Teens Give Incredible Gospel Performance Of 'Hotline Bling' In Walmart (Video)
Drake's "Hotline Bling" is not only one of the most successful hits of 2015, but it's low-key a gospel song if you replace the thot he's talking about with God.
We already saw one Atlanta church give a dope remix of the track, and now some teens hanging out in Walmart just gave a live in-store performance that proves how much soul Drake has.
According to Mashable, DeWayne Crocker and some friends hit up the Alabama Walmart to spread some holiday cheer the best way they knew how -- with some motherf*cking Drake.
Now all they need is to make a gospel remix of "Back to Back," and everyone will be a winner!
Citations: Teens bust out beautiful gospel version of 'Hotline Bling' at Walmart (Mashable)