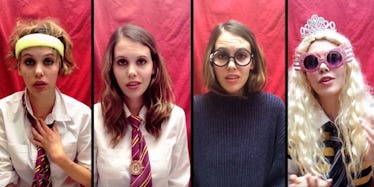 Taylor Swift And 'Harry Potter' Mashup Combines The Best Of Both Worlds (Video)
Welcome to Hogwarts; it's been waiting for you.
The only entity that garners a bigger viewer base online than the "Harry Potter" franchise is Taylor Swift. When you combine the two, you get Internet gold.
YouTuber and Potterhead Kate Parkin created an a capella "Harry Potter"-Taylor Swift parody mashup, and it's pretty awesome.
But, it'll only fair if someone makes a Nicki Minaj-"The Lord of the Rings" mashup.
That is the only way to prevent further beef between the two leaders of our generation.
I've already written two lines of lyrics (to the tune of "Anaconda") to start the mashup:
Little boy, size of a toy growing up in shire Joined by Gandalf the Grey, an adventure transpired
Someone else write the rest of it. You only need like 50 more lines of lyrics.