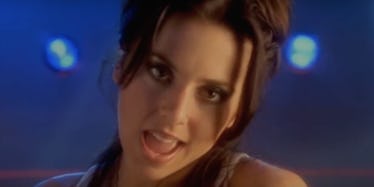 Sporty Spice Sang 'Too Much' And Brought Us All Back To Childhood (Video)
The Spice Girls never went out of style; they just broke up. And left us coping with the heartache.
Those of us who were their truest fans still have their biggest hits memorized, not just for the occasional karaoke session but for the everyday Spice Girls jam session.
One of those hits was "Too Much," first released in 1997 on the Spice Girls' second album, Spiceworld, and featured in their box-office banger of the same name.
Here are the opening credits, if you shamefully need a refresher.
Anyway, Sporty Spice, aka Mel Chisholm, stopped by "The Chris Evans Breakfast Show" at BBC Radio on Wednesday to remind everyone she can still sing.
In a never-before-heard version of "Too Much," a 41-year-old Mel C stuns without the help of her four spicy homies. It's so good, you'll have it on repeat for the rest of the day. We promise.
If Mel C goes on a Spice-Girls-But-Not-Really-It's-Just-Sporty-Spice Tour, we'd be sitting front row.
Citations: Sporty Spice Melanie C Sings "Too Much" In 2015 & It Will Give Spice Girls Fans Chills — VIDEO (Bustle)