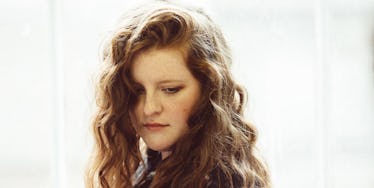 Meet Frances: The Only Artist You Need To See At Coachella 2016
Frances
Sophie Frances Cooke is about to be huge.
And I'm not saying this lightly.
I was introduced to the 22-year-old songstress from the UK, who simply goes by her middle name, Frances, ahead of this year's Coachella Valley Music and Arts Festival.
Amid a sea of PR emails, she stood out most of all as the one to watch at this year's event, thanks to her sincere and raw music style. But don't think, even for a second, that this compliment is going to her head.
"I won't believe it until I see it," Frances says of being on the brink of stardom. She adds,
I'm really happy. I'm having the best time. It's just really nice that people are saying they like my music because I'd probably be doing it anyway, I'd be writing it anyway in my mom's spare room or something. It's really nice that people are interested.
Although she's young, Frances is no overnight sensation. She's dedicated to her work as both a songwriter and musician. Frances admits it takes "a lot of commitment," including time lost with friends. She adds,
I knew very early on (what I wanted to do), which meant that I just plowed straight into it and since then I've just been kind of playing away... For me, I just wanted to get straight in there.
Frances has a sound all her own, but attributes her influences to some of the greats including Carole King, the Fugees, Radiohead and Coldplay. Although really, she adds, she's open to being influenced by just about anything.
It could be anything… everything around you influences you.
That influence has emerged into a beautiful style of songwriting, filled with stories of love, loss, friendship and real emotion. Of writing so much about heartache, Frances says,
I think it's something everyone can relate to. Even if it's just a friendship, it's not even a romantic relationship. We all know people and we all love people and it's just something everyone can relate to and that's why I like writing about it.
So far, her introduction to the American music scene has been nothing but positive for Frances. She says it's the enthusiasm of her US-based audience that excites her most.
US audiences are super confident. So, in the UK, people will come up to you in the end and if they really liked you they'd be like, 'Oh, thank you. That was really nice; I really enjoyed it. Thank you so much.'  In the US, they'd be like 'Oh my god! That was amazing!' They're just so much more animated, so it's really fun to come see the difference.
Getting to know Frances will soon be a lot easier. Her new single, "Don't Worry About Me" recently dropped, and she's planning a ton of stops around the US in the coming weeks.
Check out her site for more info and listen to a few select songs from Frances below.
Stay tuned for more Coachella coverage here, and follow us live weekend 1 on Snapchat (EliteDailySnap), Twitter (@EliteDaily) and Instagram (EliteDailyEnvision).