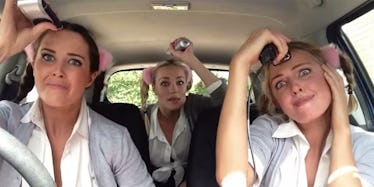 Three Girls Lip Syncing Songs From Different Time Periods Is Amazing (Video)
The ladies of SketchSHE are back at it. The Australian comedy trio first gained recognition for the lip sync of "Bohemian Rhapsody" while sitting in a car.
Now, the three women kept the automotive theme alive by lip syncing classic songs from all different eras while hanging out in an automobile.
They mouth along to Elvis, Nirvana, The Beatles, Britney Spears and Beyoncé in this video. I don't know if this type of thing takes any particular degree of skill, but they do wear some funny costumes, so that's something.
Check out the lip sync up top, and prepare to sing along.