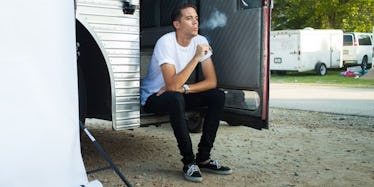 10 Signs You're A True Native Of The Bay Area, According To G-Eazy
When you're from somewhere, you're from somewhere. It's just that simple.
There's nothing you can do to change the origin of your existence. As a matter of fact, regardless of where you go, you'll always be a product of the environment in which you were born and raised.
But just because you've spent a couple of decades in one city doesn't mean you've completely mastered what it means to be from that area.
As for the ones who actually get it right? Well, those people are often actors, musicians, celebrities and other public figures who set off away from home to constantly tour the world.
As Drake would say,
Hardly home, but always reppin'.
Take rapper G-Eazy, for example.
This Bay Area-based artist, also known as "Young Gerald," is known for his versatility on the mic, his movie-like performances, his tell-all records that are more like life-coaching scriptures and, of course, his incredibly expensive taste in leather jackets (and women).
Since releasing his sophomore album, When It's Dark Out, G-Eazy has managed to power through his second world tour without forgetting the stomping grounds that helped craft who he is today: the San Francisco Bay Area.
So, what exactly does it mean to be from the Bay?
I linked up with hometown hero Mr. Eazy himself to find out:
You have a very strong opinion on where to get the best burrito.
I've probably eaten over 2,000 burritos in my lifetime at Gordo's on College Avenue in Berkeley. I guarantee you it's the best burrito anywhere. But ask someone else and they'd probably tell you about another spot!
You know every word to "Feelin' Myself" by Mac Dre.
The first track on Mac Dre's 2004 album, Ronald Dregan, still plays at every party to this day, and as soon as it drops, everyone still goes dumb. Or 'Tell Me When To Go' by E-40 and Keak Da Sneak, or 'Super Hyphy' by Keak, or 'Blow The Whistle' by Too Short. The list goes on.
You've gotten used to your flights out of SFO being constantly delayed.
For hella long... all because of some fog.
You're always outside in a flannel or light jacket.
It's never really hella cold out, so you're good with just that, but then again, if the sun comes out, it's never really hella hot out either. You'll be all good either way!
You perceive Southern California to be a whole different state.
It's a different world down there, and a completely different culture. Therefore, there's always kinda been a rivalry between NorCal and SoCal.
If you're white and from the Bay, you love Zachary's pizza and swear it's the best pizza in the area.
This is a fact. I mean, I'm white, too, but my favorite pizza spot has always been Fat Slice on Telegraph Avenue in Berkeley.
You've caught the BART to Oakland A's games.
Not to mention you've purchased the cheapest tickets just to go sit up in the front because they're usually empty -- don't trip! And you've eaten hella garlic fries there because they're FIRE.
You refer to Oakland as "the town" and San Francisco as "the city."
And Berkeley as 'B-Town' and Richmond as 'the Rich.'
You say "hella" in almost every sentence to describe "a lot" of anything.
I just put in hella work, now look at where it got us at. -- 'Lotta That' by G-Eazy
You own these E40 pins: