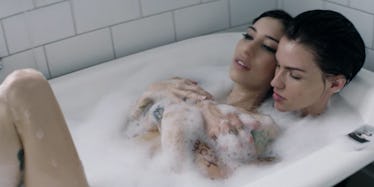 Ruby Rose Gets Sexual In The Bathtub With Her GF In Hot New Music Video
Ruby Ros
In case you aren't part of the Lesbian Couple Phone Tree, let me fill you in on how it works.
The person on top of the phone tree, Ellen DeGeneres, phones two other lesbians Sarah Paulson and Cara Delevingne, and they phone two more, etc., etc...
(You think Delevingne wouldn't be responsible enough to be second tier? Why not someone like Melissa Etheridge? Delevingne deserved that spot. She hosts our holiday cookie exchange every year.)
Ruby Rose and Jess Origliasso of The Veronicas are a real life couple. And now, they took that steamy chemistry to the progressive pop duo's newest music video for "On Your Side."
Rose, of "Orange is the New Black," also wrote and directed the video.
If you're looking for a video that showcases the two making out on a bed, against a wall, lounging in a bath and also jumping fully clothed into a pool, you're in luck!
If you were hoping there was no drug use... sorry...
But there are unicorn onesies! Just like every lesbian relationship.
Origliasso told radio station Nova FM that the two rekindled their romance while they were filming the video. She said,
We've been friends for eight years. We just reconnected over doing this video. We sort of just fell in love. It's pretty cute honestly. 'On Your Side' is about the dynamic, the highs and the lows of people in love, in a relationship.
She went on to tell The Daily Telegraph Australia,
Lisa and I have always been drawn to unconventional and honest story telling through our music; Ruby brought this to the forefront in our video. Ruby is known for creating powerful and intensely affecting work and being given the opportunity to collaborate with her artistic force has been an incredible experience, both personally and professionally.
Lisa Origliasso is Jess's twin sister and bandmate.
So, I'll be right back. I'm just going to watch this for a few hours. I will see you in the morning.
Oh, don't be a pervert. I just appreciate art.
Citations: NEWS STYLE TV SCOOP RED CARPET E! SHOWS EVENTS MORE FULL EPISODES US Ruby Rose & Girlfriend Jess Origliasso Kiss and Take a Bath Together in The Veronicas' Steamy New Music Video (E Online)