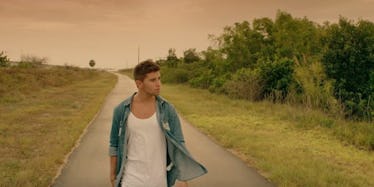 Rapper's New Tribute Song Helps Spread Message About Suicide Prevention
A mere seven months after the loss of his childhood friend to suicide, rapper Jake Miller released the video for his song "Sunshine," honoring the life of the late Dylan Andrew Schopp.
The song's title references a nickname given to Schopp by a high school wrestling coach in response to the young man's joyful attitude.
In an interview with MTV, Miller said,
I was in the studio in LA. And I got the phone call that he had passed away and I was so completely distraught over it. I went straight home, grabbed my guitar, went outside and wrote the whole song from start to finish, and the next day I got into the studio and recorded it.
Shot in Miller and Schopp's hometown in Florida, the video features old footage from Schopp's childhood as well as current clips of friends and family joining together to release paper lanterns in their loved one's honor.
Beyond tributing Schopp, the young rapper hopes to aid in suicide prevention. He joined with the Jed Foundation's Love is Louder project and MTV in time for National Suicide Prevention Week.
Miller claimed,
I think if Dylan knew how many people would be affected by what he did, I'm not sure if he still would have done it. I hope he wouldn't have done it… If you're watching this video and listening to the song and you aren't going through what Dylan was going through, then I would say take away that you never know what someone else is going through. Because from an outsider looking at Dylan, he was the most normal kid ever, you would have never thought anything like this would happen to him and that he was battling this war in his head.
Fans can find tips for reaching out to friends and family in need at loveislouder.com/jakemiller.
Citations: Jake Miller's 'Sunshine' Video Shines Light On Suicide (MTV)