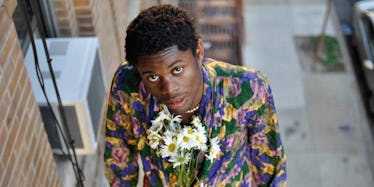 This Genius Rapper Actually Made His Entire Album In An Apple Store
Prince Harvey recorded a full rap album by MacGyvering a series of Apple stores into his own personal recording studios.
The 25-year-old aspiring rapper faced a major dilemma when his computer broke and some of his equipment was stolen.
He didn't have anywhere to record or enough funds to buy more equipment.
Renting a studio or tech was also out of the question, so Harvey would either have to take time off from pursuing his dreams or find some other way to get his music out there.
He told The Daily Beast,
New York is expensive. I couldn't just buy another laptop. I just thought, 'I'm going to die before anyone knows I'm hot.'
That's when genius struck and Harvey realized he didn't need his own equipment; he just needed a place to lay tracks down -- a place he could get into for free with computers and software geared specifically for recording music.
A place like the Apple store.
While others saw Apple stores as shiny white dots peppering the map of Manhattan, Harvey saw a series of recording studios fully stocked with everything he needed to get his album off the ground.
By befriending Apple employees who bent corporate rules and taught him how to stash music on computers in a way they wouldn't get deleted, Harvey set up shop in the house that Jobs built.
Making a full album using only Apple stores didn't come without its own unique set of hurdles to overcome.
He says eventually security guards started to recognize him, so he was mindful about making sure they didn't notice what he was doing while he was there.
And once, an employee took out a thumb drive he was using to save a file during a fire drill.
After four months of waking up at 9 am to trek across Manhattan, Prince Harvey finished his album, PHATASS (an acronym for "Prince Harvey At The Apple Store: SoHo").
There are no instruments on PHATASS; every track is done with 100 percent human voices and with the exception of a few occasional guests, every track is purely Prince Harvey.
And even though he was facing eviction from his apartment -- which he shared with 20 other roommates -- when recording the album, Harvey doesn't consider himself poor.
He said,
Poor is a mentality. I mean, I can be broke — no money in my pocket — but I've never been poor.
That being said, he wouldn't mind making some money off the record.
He added,
But I do want money. I want to tour. I want to perform for different people. Sh*t, I'll go to Antarctica for the penguins if they're feeling it.
Rapping isn't the only source of income Harvey has.
He even claims he works harder than most full-time employees, splitting his time between hosting events, recording other artists and even making his own line of rum punch.
The act of recording himself using just the equipment at Apple stores has gotten him some recognition online. Talib Kweli even gave him a shoutout on Twitter:
After reading about @princeharveynyc recording an entire album in Apple Stores I don't want to hear yall lazy ass excuses! — Talib Kweli Greene (@TalibKweli) July 5, 2015
Prince Harvey's hustle is the stuff legends are made of.
Citations: He Made a Secret Album in an Apple Store (The Daily Beast)