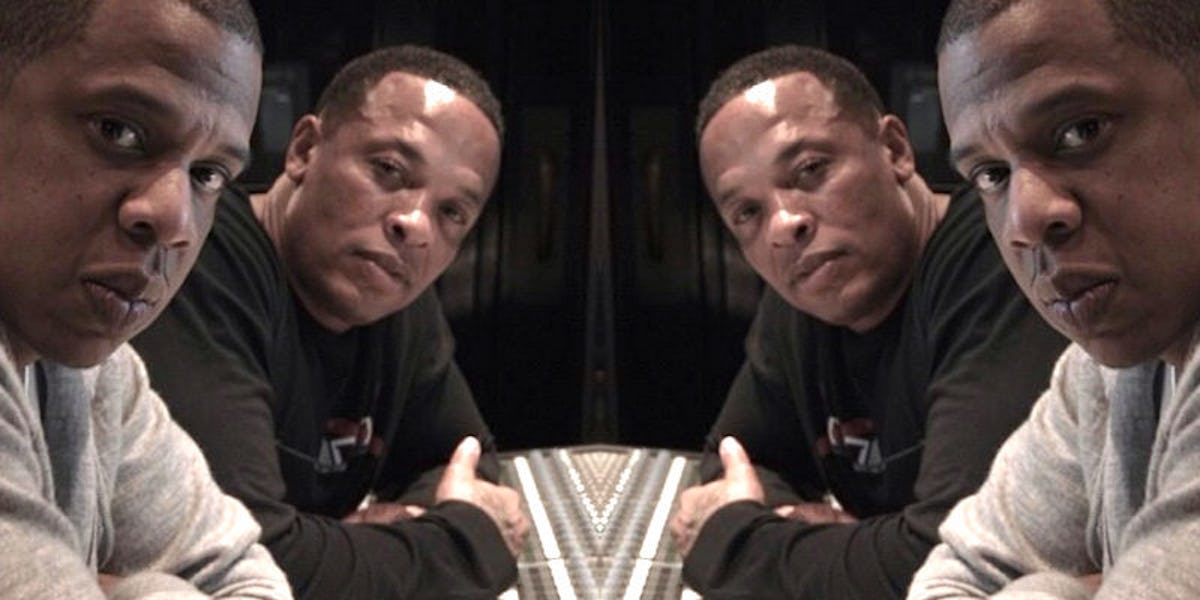 Beats, Rhymes And Life: Why Producers Are Just As Important As MCs In Hip-Hop
Tumblr
As a 20-something hip-hop head from Compton, CA, I was immersed into the culture at a very young age.
I can remember asking my big brothers who Queen Latifah was, and I heard them play Nas, 2Pac, NWA, Wu-Tang and a million other artists through their bedroom walls.
I soon developed my own relationship with this culture I now call home. I snuck explicit tapes into the house, and I listened to the completely inappropriate musings of DJ Quik or Foxy Brown in the privacy of my own Walkman.
It was a love affair from the jump, but to be honest, it wasn't their lyrical prowess, punchlines or wordplay that made me fall.
After all, as a child, I wasn't able to grasp some of the more mature subject matter, but I still felt viscerally drawn to it.
It wasn't necessarily about what these artists said, or even how they put the words together. It was the music itself, the beats.
The production of a song is undoubtedly just as important (and in some cases, more important) as the bars themselves. Therefore, producers are just as much rockstars as their rapper counterparts.
Pure instrumentation, sans words, is incredibly powerful.
I've seen quite a few operas in my day (mostly late-night PBS specials, but hey), many of which were in Italian or some other language I don't understand. But, I still felt it, regardless of whether or not I completely comprehended what was being said.
A beautiful arrangement alone is enough to bring some people to tears because, again, it's all about the feeling.
At their best, hip-hop producers should create that same vibe and provide listeners with the backdrop necessary to paint an accurate picture of what the rapper is trying to say.
The music alone should also be able to stand as a piece of art, which is why anytime a producer or production team that is truly revolutionary comes around, they are often praised just as much as the artists they're working for, or rather, working with.
Early hip-hop always gave props to the DJs and producers and, many times, outshined the artist themselves.
Over time, the rapper became the star, but there was, and still is, always a reverence for those behind the boards and turntables.
All praises to the fallen MC, Guru of Gang Starr, but who knows what his sound would have been if it had not been crafted over the legendary beats of DJ Premier?
Dr. Dre quite literally constructed the sound of NWA, Snoop Dogg and, honestly, the entire West Coast rap scene.
Eventually, he became known as the greatest rap producer ever (debatably, but widely accepted). Artists were seeking him out, not the other way around.
Timbaland is another one who changed the game, creating some of the most mind-blowing hip-hop and R&B of the 1990s and 2000s.
He created signature sounds for Missy Elliott, Ginuwine and the late Aaliyah, whose album, One in a Million, was predominantly produced by Timbaland and is considered one of the best R&B albums of the 1990s.
The fact that he started out producing primarily for R&B acts, while providing them with more hip-hop centric beats, helped blur the lines between these two genres.
He "inspired" many up-and-coming beatsmiths (or "beatbiters," as Timbo calls them), who essentially took his signature sound.
Of course, imitation is the highest form of flattery, and producers like Timbaland, Dr. Dre and The Neptunes have been mirrored several times over, influencing a generation of soundscapes both inside and outside of hip-hop.
Young producers, such as Hit-Boy, Mike Will Made It, DJ Mustard and others, are now carving out their own lanes. They have all developed their own styles that have become imitated by others on the come-up, who are hoping to ride the wave of their movements.
Their notoriety is also just as high as the artists they work with, with Mustard being just as well-known as YG or Ty Dolla $ign, and Mike Will being just as praised for his work as Future or Rae Sremmurd.
Drake's right-hand man, Noah "40" Shebib could be credited with popularizing the hauntingly sexy sounds of the 6 God, arguably having drawn influence from 808s and Heartbreak era Kanye West.
That sound has now spilled over into the music of others such as The Weeknd and PartyNextDoor.
I will always have a certain level of reverence for the men and women behind the boards. They may not always be in front of the mic or camera, but their contributions to the culture are not only appreciated, admired and revered, but also absolutely necessary.
Producers are just as imitated as rappers.
Producers are just as talented as rappers.
Producers are just as important as rappers in hip-hop.