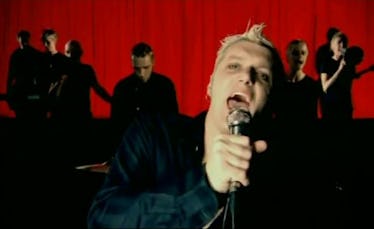 These 9 One-Hit Wonders Absolutely Need To Go On A Reunion Tour Right Now
From The Spice Girls to Guns N' Roses, reunion tours are all the rage. But what if all those big name bands took old one-hit wonders with them on the road? Here are the artists that would make a great comeback and an even better opening act.
Chumbawamba
How much of an anthem was "Tubthumping!?" I would kill to be in a venue, screaming "I get knocked down but I get up again" at the top of my lungs. That phrase is what kids these days need. Don't give up! They would be a perfect opener for fellow alternative band, Green Day. (But Green Day should only play their first few albums on this imaginary tour.)
Eiffel 65
These guys would be perfect for any and all outdoor festivals this spring through fall. Interpretive dance to the beat of "da ba de da ba dy" covered in blue glitter is what their one song was made for. They peaked too early.
Deep Blue Something
What about "Breakfast at Tiffany's?" It is a killer tune that's what! This band needs to have another moment to shine and it should happen with Nate Ruess, more commonly known as the lead singer of Fun and The Format.
The Verve
Let's be real, nobody can ever get enough "Bitter Sweet Symphony." Even the mash up, "Brush Your Bittersweet Shoulders Off," which has Jay Z's track "Brush Your Shoulders Off" laid on top, is outrageously good. That duo would make a great show. An evening with The Verve and Mr. Carter would have something for everyone and every mood.
B*witched
What's better than one girl band with cool accents? Two girl bands with cool accents! B*witched needs to join The Spice Girls on tour because "C'est la Vie" is amazing and life is so much more fun when you have a catchy chorus to dance to.
The Buggles
Don't remember that name? That's OK, it's their song that counts. "Video Killed The Radio Star" is a hit that knows no bounds. First recorded in 1979 and remade 22 times since then, this song made its mark and should be consistently performed. They would make a great fit with Ben Folds who also covered the one-hit wonder in 2005.
Dexy's Midnight Runners and The Emerald Express
These guys made the name Eileen cool with their song "Come On Eileen." With just the right amount of beat and an awesome bridge that got everyone to sing along, this band would pair perfectly with a night of Billy Joel.
Blind Melon
This is the band who sang a great song about an average person. "No Rain" gave the '90s the melancholy feel we all know and love. After the bright colors of the '80s, this one-hit wonder brought the '90s into neutral-toned plaid shirts. Blind Melon and their cill ways would tour perfectly with another chill band. Sounds like the summer stadium tour that Dave Matthews Band always does is right up their alley.
Los del Rio
"Macarena" is the perfect festival jam! No one knows what they are saying, but we know it is scandalous and we know how to do the synchronized dance and that's enough for us.
Whether it's a throwback Thursday night at a bar or just your music player on shuffle turning back the clocks, it's always fun to go down memory lane.