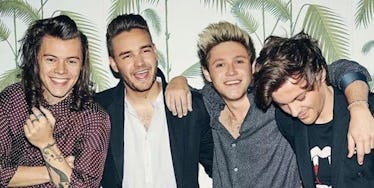 One Direction Drops First Single Without Zayn And Fans Totally Lose It
All of a sudden, the Zayn-less One Direction world we live in just got very real.
In March, One Direction went from being a five-part music machine to a heartthrob quartet when Zayn Malik unexpectedly left the band.
Though the world stood still that day, deep down inside, we all secretly believed the clouds would part, the nightmare would end and Zayn would return to the group, making One Direction whole again.
Fans still holding out for Malik's return were dealt a crushing blow earlier this morning when One Direction released their first track sans Zayn on Spotify and iTunes.
HEY GUYS! So, #DragMeDown dropped earlier! Check out what the guys had to say about it. https://t.co/Z2E32BMjn1 — One Direction (@onedirection) July 31, 2015
The song is called "Drag Me Down," and you should probably listen to it. Liam really needs you to listen to it.
Bit of a surprise ! Check out our new single! It's called Drag Me Down & I hope you love it as much as we do https://t.co/HPJn2Kij5M — Liam (@Real_Liam_Payne) July 31, 2015
Louis and Niall also tweeted about the song's release.
We wanted you guys to have our new single first so here it is! http://t.co/Nnp8jrBnEg — Louis Tomlinson (@Louis_Tomlinson) July 31, 2015
Finally we get to say this ! have waited a long time but our new single Drag Me Down is out !!! http://t.co/ZNONKQKXqd — Niall Horan (@NiallOfficial) July 31, 2015
Harry sorta tweeted about it, too.
Is Harry OK? Someone should check on Harry.
https://t.co/BFQSZwSfbF — Harry Styles. (@Harry_Styles) July 31, 2015
Teens are doing their best to try and cope with the new song, but it isn't going too well.
WHILE LISTENING TO THE SONG, I DON'T KNOW WHY I ACTUALLY WAITED TO HEAR ZAYN'S SOLO #DragMeDown — DRAG ME DOWN IS PERF (@pxnkrockerxx) July 31, 2015
im happy for zayn but sad at the same time — juliana (@aestheticnourry) July 31, 2015
Omg new single by one direction without zayn. It is hurting deep inside — syra nawaz (@hibba321) July 31, 2015
need zayn in my life tbh — zaynmalikvevo (@jaaycuhb) July 31, 2015
Wait ok but this is their first song without zayn iM WEAK — cyber hoe (@summercruz_) July 31, 2015
Feeling so weird not hearing Zayn's voice #DragMeDown — THANK YOU 1D (@harrie_loves1D) July 31, 2015
Some fans, who are clearly in denial about the whole thing, are even claiming they still hear Zayn's voice in the song.
WHY AM I HEARING ZAYN GUYS WHY — ya gurl sop (@IDIOTITS) July 31, 2015
I don't know why but it's like i hear zayn's voice at the end... #DragMeDown — Sarina (@sarinamartens) July 31, 2015
Does?? Anyone?? Else?? Hear?? Zayn?????????? #DragMeDown — janna (@pancakecal) July 31, 2015
The world is a little darker today.
Citations: Surprise One Direction Just Released Their First Single Without Zayn Malik (Cosmopolitan)