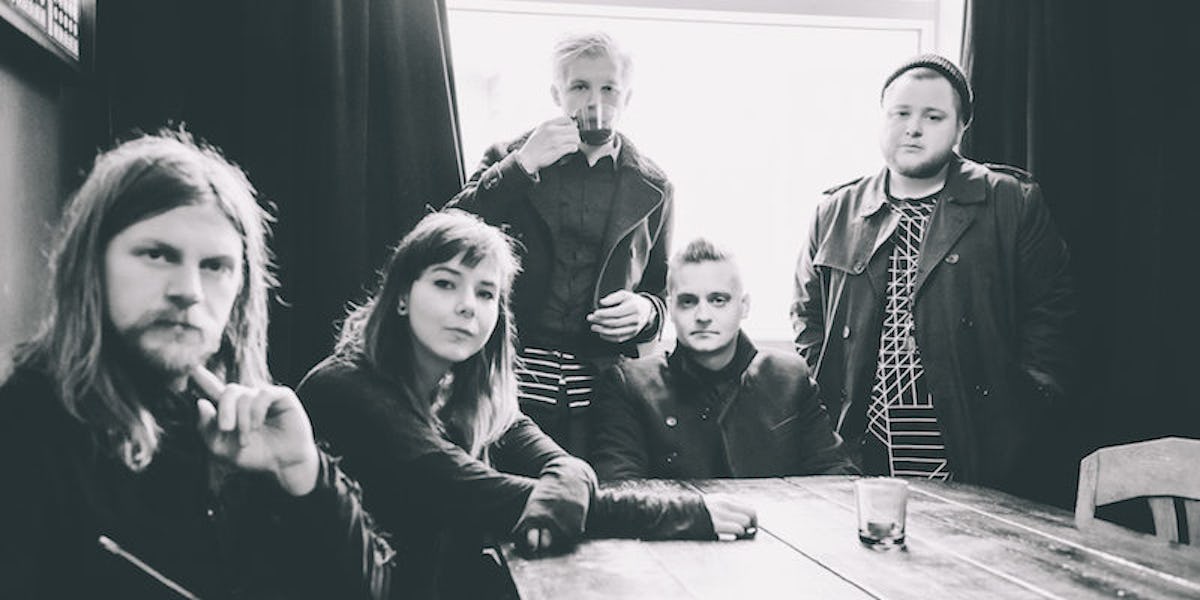 Of Monsters And Men Is Taking Over The Main Stage At Coachella 2016
Meredith Truax
Picture it: The sun has started to set, and more than one-third of attendees at weekend one of the Coachella Valley Music and Arts Festival are gathered snugly at the main stage to take in the indie folk-pop sounds of the profoundly successful Of Monsters and Men.
The traditionally six-member band recently released their new album, Beneath The Skin, and during their second Coachella appearance, fans are anticipating hearing both new sounds and old classics.
Elite Daily sat down with the band's acoustic guitarist and lead male vocalist, Ragnar þórhallsson, and drummer Arnar Rósenkranz Hilmarsson before their Friday night performance.
The two bandmates humbly divulged what it's really like to play at the most talked-about music festival of the year.
Of Monsters and Men formed in 2010, but the band's imprint in the music scene really took hold in 2013, when they played at Coachella for the first time.
Of the set, Ragnar said it's one they'll never forget, if not for the unfortunate placement of a massive mobile art piece that tried to steal the spotlight. He said,
Last time we played here, they had this huge snail. ... In the middle of the set, it started moving and it moved towards the stage, and it blocked the left side of the PA for like five songs or something. And it slowly moved away. Our sound guy was like, 'F*cking snail!'
The snail-interrupted, breakout performance came during a busy time, as the band had been touring for about a year when they took the stage in Indio, California. Over the past three years, they have yet to slow down.
Ragnar talked about the palpable shift in their audience from when they played at Coachella in 2013 to today, adding,
You see the difference. More people hear of you, and your set becomes later.
The Of Monsters and Men fanbase has expanded so far that the band is taking over Coachella's self-named main stage at this year's festival. Even though they admit to not yet solidifying their set just hours before the Friday performance, Arnar and Ragnar told us what to expect:
New album, new songs, couple of new players on stage. We have nine people on stage now.
One might think having nine members poses somewhat of a challenge at times, maybe in the studio or onstage, but when asked about having such a large ensemble, Ardnar said it's great, joking about the biggest problem he ran into today, which was literally stepping on the trombone player's toes.
On the contrary, the main challenge the band faces, if any, is appealing to their audiences of varying size and culture. When it comes to playing a festival versus a smaller venue, Ragnar said,
When you're playing a headline show, everybody's just there to see you. At a festival, there's a lot of other bands. The crowd isn't just for you. It motivates in a different way.
To that, Arnar added,
I get more nervous when I play for a smaller crowd. [With] 500 people, there's so much pressure. They're so close.
Playing for an audience that doesn't know Of Monsters and Men by name, and isn't familiar with the band's music, actually presents an underlying opportunity, as Ragnar said introducing themselves to new audiences is "one of the benefits of playing a festival."
And in order to appeal to that crowd, Ragnar mentioned the most important goal during a set is to "keep the energy up, and make the most of it."
Having already played six different countries this year, Of Monsters and Men tackles shows in Hawaii, Mexico and Pomona, California, before returning to Coachella on Friday, April 22. You can also catch them on "Jimmy Kimmel Live" Wednesday, April 20, at 11:35 pm.
Check out the band's album, Beneath The Skin, in-stores and via music streaming applications now! You can follow Of Monsters and Men on Twitter and Instagram for updates on what's happening next.