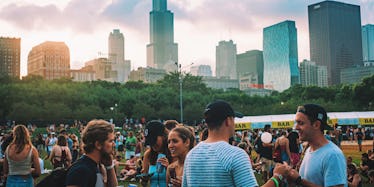 10 Music Festivals For People Who Aren't Really Into Music Festivals
Sepp Dasbach
You can't live in the 21st century without hearing someone talk about music festivals. Whether it's Coachella or Bonnaroo, you definitely know someone who has taken peace sign selfies while wearing at least one article of clothing with daisies printed all over it.
While the lineups for these festivals always sounds tempting, the price (and the sometimes overbearing crowds) can make you turn around faster than you can say "crop top."
But there is hope: For those who want to hear good music without all the flashy trimmings, we've got 10 music festivals that won't totally empty your wallet (or your soul).
1. Voodoo Music Festival
Taking place in New Orleans, Voodoo is a culmination of music, art and cuisine that will satisfy all your festival cravings.
With more than 65 bands playing over three days (with big name artists like Arcade Fire, Band of Horses and Foals in the lineup), there's no way you'll leave without Instagramming at least once. Voodoo also holds up to its spooky name, considering the festival occurs over Halloween weekend.
There are tons of places where you can hear things go bump in the night, like The Mortuary and the House of Shock, which are real-life haunted houses located nearby. The spooky activities may scare you, but tickets for admission won't -- a three-day pass will only run you $140.
2. Bumbershoot
Come for the name, stay for the lineup.
An obscure nickname for the word "umbrella," Bumbershoot fittingly takes place in Seattle, WA. This festival is way more than just music.
From Sept. 2-4, you'll experience art shows, exhibitions and guest speakers, all while watching performances by Halsey, Andrew Bird and St. Lucia. But if you think big names mean a steep ticket price, think again.
Passes for all three days will only run you $180. Is it really any surprise this festival has been successfully rocking on for the past four decades?
3. The Werk Out Music and Arts Festival
The Werk Out festival is perfect for anyone who loves to casually name-drop obscure artists to their friends.
Taking place in Thornville, OH, it's not your average music festival. The lineup includes artists you won't be hearing on the radio, but that's what makes it so damn cool.
Musicians this year include Daft Phunk, Everyone Orchestra and Greensky Bluegrass. The main takeaway from each performance is to emphasize the musical influences that are the foundation of the Midwest's music scene.
4. CRSSD Festival
So you'd rather spend your nights listening to EDM than indie music, and we can't blame you.
Feel free to bask in electro paradise at the CRSSD Festival in San Diego, CA in October. With a well-curated lineup of artists like Miike Snow, Colour Vision and Thomas Jack, you're guaranteed to reach electronic nirvana.
Tickets for CRSSD start at $135 and there's a strict 21-and-older policy, meaning you can vibe out without risking the chance of hitting a kid in the head with your glow stick.
5. Pickathon
You secretly want to attend Governor's Ball, but you'd never admit it.
Good news: Pickathon is a festival that boasts a lot of similar artists with less of the pretentiousness. Located in Happy Valley, OR, Pickathon has an incredible lineup with artists like Beach House, My Bubba and Dan Deacon.
Pickathon is proud to invest in the quality of the artists rather than the quantity, so you know they're not messing around when it comes to the most important part of a festival – the music. Bonus points for having a zero-waste food and beverage environment. Children 12 and under also get in for free. For you readers who are over 12 (read: all of you), a weekend pass starts at $290.
6. Dirtybird Campout
Mix equal parts nostalgic memories of summer camp with the backdrop of an underground house music scene; add booze and shake well.
Dirtybird Campout is what Millennial dreams are made of, complete with rowboat races, tug of war and late-night underground house music parties. If you're longing to relive the summers of your childhood, then this California music festival is your perfect match.
With a lineup including Reggie Watts, Green Velvet and Justin Martin, you can rock out with your s'mores out. Taking place from Oct. 7-9, a three-day pass will run you $165. It may sound like all fun and games, but we can't guarantee that you won't get a wedgie from the camp bully.
7. Hardly Strictly Bluegrass Festival
The words "California" and "free" typically don't go together -- unless you're talking about the Hardly Strictly Bluegrass Festival.
Hosted in Golden Gate Park, CA from Sept. 30-Oct. 2, this music festival came to fruition when Warren Hellman decided he'd like to fund a free fest for the masses. As it implies in its name, this festival is clearly more than just bluegrass, and last year's lineup proved it: Artists like M. Ward, Conor Oberst and Gregory Alan Isakov all performed in front of a very appreciative (and budget-conscious) crowd.
This year's lineup is TBD, but if last year's artists are any hint of what's to come, we can imagine it's going to be pretty sweet. Thanks, Mr. Hellman!
8. Watershed Festival
Maybe you're not the biggest fan of the indie-folk festivals cropping up all over the globe, but you'd be damned to turn off Rascal Flatts on the radio.
The Watershed Festival is all country, with no BS. Taking place August 5-7 in George, WA, there are outdoor party games like corn hole, beer pong and a massive inflatable waterslide that will give you plenty to do to stay entertained between sets.
And if the games don't get you amped up, the lineup definitely will. Jason Aldean, Kacey Musgraves and Keith Urban will all be at this year's show, making the ticket price of $199 a bargain. Cowboy boots optional, y'all.
9. Life Is Beautiful
Life is definitely beautiful at this Las Vegas, NV music festival.
Taking place rain or shine from Sept. 23-25, Life Is Beautiful comes equipped with a collection of art installations and immersive experiences, with hundreds of murals and exhibitions that scatter across 18 blocks in downtown Las Vegas.
Listen to the ever-popular Mumford & Sons, The Lumineers and Bloc Party while confetti rains down over this transcendent festival. Three-day passes start at $285, and they're worth every pretty penny.
10. Mad Decent Block Party
So you didn't get to see 'Ye's surprise concert in the streets of New York City a few months ago, but here's another chance to bump up your street cred.
You'll go hard at the Mad Decent Block Party, a dance/rave/hip-hop festival which now tours in over 20 cities. Whether you're in Detroit, MI or Phoenix, AZ, you'll get the chance to see artists like Diplo, RL Grime and Ke$ha perform. Ticket price depends on which city you're looking to hit up, but can range anywhere from $40 to $80. That's a mad decent price to pay if you ask us.
We give you permission to attend any one of these incredible gathering places for music, art and fun... but please -- rethink the daisy-printed blouse.