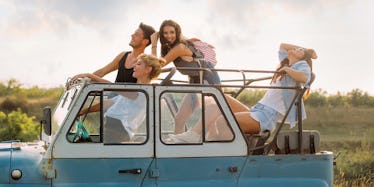 7 Epic Music Festival Road Trips To Add To Your Bucket List
We live in a country where music festivals are nothing out of the ordinary. All across the United States, incredible musicians headline concerts of epic proportions. Name a state, and you'd be damned if you didn't find at least one festival that didn't look appealing.
But, sometimes there are festivals that take place on the complete opposite ends of the country, and let's face it -- you're a bit bummed.
Instead of feeling the pangs of jealousy, call some friends, pack up your car and hit the road, so you can make the most out of festival season.
Road Trip 1: Lockn' to Made In America to Hopscotch
Lockn' Festival: 8/25-8/28; Arrington, VA
Hear the likes of Brandi Carlile, Gary Clark Jr. and The Wailers at this four day festival. Thanks to an emphasis on locally-sourced food and vendors, your festival experience will be anything but ordinary.
Distance to next festival: 292 miles
Pit stop: Washington, D.C.
Why not hit up the White House while you're heading north? Home to endless museums and plenty of performing arts venues, Washington, D.C. is the perfect rest stop to give your eyes a break from the road.
Budweiser Made In America Festival: 9/3-9/4; Philadelphia, PA
You'll want to brace yourself for this next festival. With some of the most renowned artists performing in all different musical genres, this two day fest will not disappoint. Artists like Coldplay, Rihanna and Grimes are headlining the show.
Distance to next festival: 425 miles
Pit stop: Richmond, VA
Filled with plenty of history, Richmond is a fun stop to stretch your legs. Check out who's playing at their top music venues like the Altria Theater or The National, or just hop on a bike tour to get your feet moving.
Hopscotch Festival: 9/8-9/10; Raleigh, NC
This three day festival packs over 100 bands into the lineup, with artists like Beach House, Sylvan Esso and Andrew Bird. Whether you're rocking out at the outdoor stage in Raleigh City Plaza or in one of the smaller, indoor venues, you'll get an eclectic mix of artists in unique locations.
Road Trip 2: North Coast to Middle Waves to Pilgrimage
North Coast Music Festival: 9/2-9/4; Chicago, IL
Start your trip off right with this music festival, which boasts a lineup of artists like Zedd, Grouplove and Sleigh Bells. With so many different genres of music under one roof, you're almost guaranteed to have a good time.
Distance to next festival: 155 miles
Pit stop: Indiana Dunes National Lakeshore
Roll down your windows and feel the breeze as you stop at the Indiana Dunes National Lakeshore. Dip your toes in Lake Michigan or play some beach volleyball before having to cram back into the car.
Middle Waves Festival: 9/16-9/17; Fort Wayne, IL
Featuring three stages with more than two dozen artists, this festival weekend will fill your ears with good music and fill your stomach with fun local food trucks. Enjoy listening to musical performances by Best Coast, The Flaming Lips and Doomtree. Then, head to The Village to get your face painted or get your drink on.
Distance to next festival: 429 miles
Pit stop: Nashville, TN
You've been in it for the long haul, but your pit stop will pay off: Stop at the Grand Ole Opry House, one of the most legendary music venues in the country. Or, hit up a honky tonk in the great Music City.
Pilgrimage Music Festival: 9/24-9/25; Franklin, TN
Beck. Kaleo. Blind Pilot. Those are just a few big names at this festival, which celebrates the music and culture of the south. And if you're looking for a cool souvenir to bring back for your friends, head to the Bazaar, which sells artwork and wearables from local vendors. We won't judge if you keep the souvenirs all to yourself.
Road Trip 3: Joshua Tree to Desert Trip to Dusk
Joshua Tree Music Festival: 10/6-10/9; Joshua Tree, CA
Known for its family-friendly appeal, this four day festival features artists like Tyler Bryant and the Shakedown, Jagwa Music and Mark Farina. Visit the Positive Vibration Station for powerful talks from guest speakers, or practice your namaste with one of their many yoga instructors.
Distance to next festival: 65 miles
Pit stop: Desert Hot Springs
Keep that meditative energy flowing while you stop at this spa-centric city. Built over one of the world's finest natural hot springs, this is the perfect spot to destress from being on the road.
Desert Trip Festival: 10/14-10/16; Indio, CA
Prepare to be in the presence of legends at this three day festival with performances by Bob Dylan, Paul McCartney and The Rolling Stones. Throw all your yoga teachings to the wind and scream like hell as you watch them take the stage.
Distance to next festival: 360 miles
Pit stop: Cibola, CA
Enjoy the scenic views of the Colorado River, and the wildlife that comes with it. Pack some binoculars to spot endangered animals — then use them at your next festival for closeup views of your favorite artists.
Dusk Music Festival: 10/22; Tucson, AZ
It may just be a one day festival, but it packs a hell of a punch. Watch performances by Matt and Kim, Calexico and RL Grime, to name a few. You'll rock out to electronic beats and bass-thumping sounds all day long.
Road Trip 4: Ohana to Nocturnal Wonderland to Sundown
Ohana Festival: 8/27-8/28; Dana Point, CA
This two day festival offers an incredible lineup of musicians, including Band of Horses, Lana Del Rey and Eddie Vedder. Plus, you can rock out and feel good about yourself, since a portion of the proceeds goes to the San Onofre Parks Foundation, which helps preserve California's parks.
Distance to next festival: 72 miles
Pit stop: Anaheim, CA
The only thing more fun than a road trip is a small detour through Disneyland. Hop on a rollercoaster or hang out with a princess (you know you want to) before hitting the road once again.
Nocturnal Wonderland: 9/2-9/4; San Bernardino, CA
An "out of this world" experience is a good way to describe this festival. Electronic music fills the five stages, and artists like Chromeo, Bro Safari and Mekanikal will be performing, so you can fulfill all your techno needs.
Distance to next festival: 65 miles
Pit stop: Orange County
No, we're not going to tell you to stalk one of the cast members of the "Real Housewives of Orange County" at this pit stop (but if you do, take photos). Instead, try heading to the Orange County Zoo to see the other kind of cougars.
Sundown Music Festival: 9/17-9/18; Huntington Beach, CA
Keep your energy going at this beach party festival. Performances by AWOLNATION, Robert DeLong and NGHTMRE will keep you wildly entertained.
Road Trip 5: Riot to Telluride Blues and Brews to Route 91 Harvest
Riot Fest Denver: 9/2-9/4; Denver, CO
This festival is 100% rock, and it's one hell of a good time. Musical performances by Fitz and the Tantrums, Jake Bugg and Deathcab for Cutie will pump you up, and the festival's official after-shows will keep you there.
Distance to next festival: 332 miles
Pit stop: Aspen, CO
Visit the Aspen Art Museum or head to the Maroon Bells, one of the most photographed places in Colorado. Selfie stick optional.
Telluride Blues and Brews Festival: 9/16-9/18; Telluride, CO
As it implies in its name, this festival is for people who love two things: Live music and drinking. Mixing blues, rock and funk with some of the top microbreweries in the US, this is the spot to sit back, relax with a brew and jam out to some incredible artists like Jason Isbell, Gary Clark Jr. and Shakey Graves.
Distance to next festival: 568 miles
Pit stop: Capitol Reef National Park
You're going to want to whip out that selfie stick on your next stop, since this park boasts surreal views of sandstone formations and a massive valley of red rocks. You can take a few days to camp here before you head towards Sin City.
Route 91 Harvest Festival: 9/30-10/2; Las Vegas, NV
Though it's one hell of a drive, the end destination (and the lineup) is totally worth it. With headliners like Toby Keith, Brad Paisley and Luke Bryan, you've hit country nirvana at this three day festival. When you're not tapping your cowboy boots to the beat, you can enjoy a game of corn hole, get tatted up (with henna, of course), or hit up the Vertigo Swing, which offers the best view of the festival and the Las Vegas Strip.
Road Trip 6: Grand Point North to Catskill Chill to Roots Picnic
Grand Point North Festival: 9/17-9/18; Burlington, VT
Take a trip up north to this two day festival, where you'll see an impressive lineup including Grace Potter, Guster and Blind Pilot. As if the music isn't cool enough, while you're there you can check out Grand Point Weird -- an art installation on the grounds of the festival that's created by musician Grace Potter's sister, Charlotte Potter.
Distance to next festival: 272 miles
Pit stop: Saratoga Springs
While you might not be able to bet on the horse races, you can still head to the Saratoga Casino Hotel and play any of their 1,700 slot machines. If gambling isn't your thing, you can always head to the Saratoga Winery (because we know drinking is definitely your thing).
Catskill Chill: 9/23-9/25; Lakewood, PA
This three day festival is a mixing bowl of musical genres ranging from reggae to bluegrass, and it's as chill as it sounds. You can find Greensky Bluegrass, Lettuce and Mike Gordon all hitting the stage in this year's lineup.
Distance to next festival: 153 miles
Pit stop: Harriman, NY
Fall in New York is pretty gorgeous if you go to the right spots. Harriman State Park is one of the largest parks in the state and boasts unforgettable views. With tons of vantage points, you can feel like you're on top of the world before reluctantly climbing in the back of your friend's station wagon.
Roots Picnic: 10/1/-10/2; New York, NY
This festival has pretty much every artist you'd ever fangirl over, like the X Ambassadors, John Mayer and The Roots. Originally starting out in Philadelphia, this two day festival is making its way to New York for the first time ever. Go see history being made, people!   
Road Trip 7: Project Pabst to Bumbershoot to Kaaboo
Project Pabst: 8/26-8/28; Portland, OR
Project Pabst is taking the US by storm -- well, four US cities, at least. With a stellar lineup featuring Tame Impala, STRFKR and Kyle Craft, we suggest keeping it weird in Portland. 
Distance to next festival: 176 miles
Pit stop: Olympia, Washington
Head to Washington to see the Washington State Capitols or Capitol Lake. If you have kids (or just feel like acting like one), you can head to the Hands On Children's Museum.
Bumbershoot Festival: 9/2-9/4; Seattle, WA
Experience art shows and exhibitions on top of an incredible lineup featuring Father John Misty, Explosions in the Sky and Andrew Bird. There's a reason this festival has been continually knocking it out of the park for the last 40 years (Reason: Because it's freaking awesome).
Distance to next festival: 1,239 miles
Pit stop: Bakersfield, CA
Since you're on a road trip to hit up the best music festivals, stop at the Bakersfield Music Hall of Fame to catch a local artist perform. Or, get tickets to see a not-so-local artist at the Rabobank Arena, where musicians like Fleetwood Mac, Carrie Underwood and Neil Diamond have headlined.
Kaaboo: 9/16-9/18; San Diego, CA
Your car will definitely feel the mileage after the last leg of this road trip, but it will be so worth it. We're talking Aerosmith, The Avett Brothers, The Chainsmokers and way, way more. On top of the insane lineup, this three day festival features art shows, world-class food and comedy routines. There's even a sandy beach area with cabanas. Sit back, relax and get yourself a fruity cocktail. You've earned it.