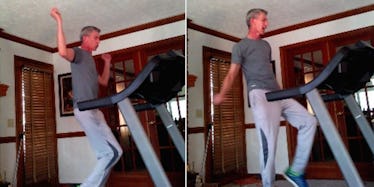 Guy Absolutely Nails His Treadmill Dance To 'Moves Like Jagger' (Video)
Yesterday, we showed you a video in which a talented gentleman danced along to Bruno Mars' "Uptown Funk" while on a treadmill.
Today, we have a similar video, only this one shows a man dancing to Maroon 5's "Moves Like Jagger" while on an exercise machine.
The man, who indeed has moves like Mick Jagger, is named David Greider and he kills it in this one. He even added some lip-syncing to his video.
I'm not really sure if this is a trend I want to see grow, but it would make an interesting concept for a workout class.