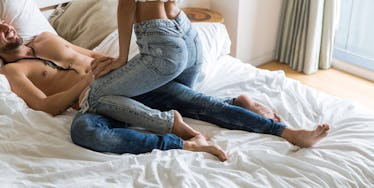 The Most Popular Song To Have Sex To Proves EDM Music Has Taken Over The World
Jovo Jovanovic
It's no secret the right music can really set the mood.
When it comes to finding the best baby-making music, slow jams and R&B classics are normally the first type of music that comes to mind.
However, you might find it interesting to know a lot of people are ditching Marvin Gaye in favor of a bedroom playlist that's a bit more upbeat.
Yep, if you've been wondering what the most popular song to have sex to is these days, look no further.
The music streaming service Spotify just compiled a list of the most popular songs across the world and found the number one track to get it on to in the U.S. was "Sex" by Cheat Codes and Kris Kross Amsterdam.
If you ask me, the fact this fittingly titled tune turned people on the most basically proves EDM has taken over the world.
If you're wondering what people on the other side of the pond listen to while rolling around in sheets, Spotify revealed "Sex With Me" by Rihanna was the most popular sex song in the UK.
However, people aren't just bumping bad gal RiRi in the bedroom.
According to Spotify's data, Rihanna was also the most streamed female artist in the world for the second time in a row.
In addition to racking up a total of 2.5 billion streams this year, her album "Anti" came in third place on the worldwide charts, and her song "Work" snagged fourth place for most streamed track of 2016.
If you're wondering which artist beat out Rihanna, it was actually her on-again, off-again lover Drake.
Apparently, the Canadian rapper racked up a total of 4.7 billion streams across the globe and stole the number one spot for the most streamed album and song this year.
So next time bae makes that hotline bling, make sure you update your playlists before bringing him into the bedroom.
Citations: This is the most popular song that people have sex to (Hello Giggles)