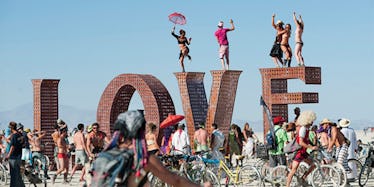 Missed Coachella? Here Are 5 More Music Festivals You Can Rage At This Summer
Happy Festival Season!
If you didn't make it to Coachella this past weekend, then you're probably all too aware of it.
The FOMO is strong. With performances from AC/DC, alt-J, Hozier and Kaskade, Coachella kicked off festival season with a bang.
For those of us who were unable to make the trek out to the Golden State, the Coachella Snapchat story was about as close as we got to the weekend rave.
If you're stuck in a fit of No Festival Blues, have no fear, yet another listicle is here!
Channel your festival envy into the upcoming season. There are still a ton of raves to hit and music scenes to explore.
Some might require more of a commitment than others, so make sure you choose the festival that best suits your comfort level. Not sure where to start?
Check out these top five festivals to rage at this summer, all classified by location, date and vibe. Got your flower-crown?
Good. Let's rave.
Lollapalooza
Location: Grant Park, Chicago
Dates: July 31 – August 2
Vibe: Muddy Vans, Twenty One Pilots and Bud Light
Lollapalooza is an alternative music festival that takes place in the heart of Chicago.
Its lineups are about as diverse as the crowd, and it boasts a lot of the same performers as Coachella (Florence + The Machine, Tame Impala, FKA Twigs and The Weeknd, just to name a few).
There's no camping at Lolla; you have to exhaustedly trek back to your hotel after your day of face melting, but you'll never be happier.
Make sure you stop by Harold's Chicken Shack at the end of the night. It's pretty close to the park, and it tastes amazeballs after all that dancing.
Electric Forest
Location: Rothbury, Michigan
Dates: June 25 - 28
Vibe: Hammocks in the trees, bare feet and jam bands
Electric Forest is four days of jamming, mystical creatures and probably a few chemical mood enhancers. If you're looking for a modern day Woodstock meets EDM, then welcome home.
The best way I can explain it is "Alice in Wonderland" on psychedelics. Everyone is welcoming, happy and up for a good time.
This year's lineup includes electro-darlings Bassnectar, Skrillex and Kaskade, plus three performances by a Forest favorite: The String Cheese Incident. Be prepared for a long weekend of no showering, a lot of love and a few woodland creatures. Always be on the lookout for Carl.
Glastonbury
Location: Somerset, England
Dates: June 24 - 28
Vibe: Rain boots, paisley skirts and Emma Watson
Something for our lads across the pond: Glastonbury is one of the biggest music festivals in the world. While the 2015 lineup has yet to be released, last year saw big names ranging from Metallica and Arcade Fire to Dolly Parton, Lana Del Rey and Robert Plant.
Around 175,000 people make the pilgrimage every year for this weekend of contemporary music, dance, theater, circus and cabaret acts. Glastonbury is for the more experienced festival goers, but with its epic lineups, I'll start studying up ASAP to get there.
Burning Man
Location: Black Rock Desert, Nevada
Dates: August 30 – September 7
Vibe: Mutant go-go dancers on giant tricycles with a slight case of pyromania
Burning Man is not for the faint of heart or the festival newbies. Burning Man is a week of soul searching and innovation with a little bit of music thrown in.
This is the pinnacle of your festival career. Tens of thousands of burners come together for a week to create an entire city from scratch.
Black Rock City is "a temporary metropolis dedicated to community, art, self-expression and self-reliance." There is no commerce and no housing. You must survive only on your ability to create and contribute to the community.
Electric Daisy Carnival (EDC)
Location: Las Vegas, Nevada
Dates: June 19 - 21
Vibe: Rainbow thigh-highs, fuzzy animal hats and lots of kandi.
EDC is the largest electronic dance music festival in North America.
Take all the insanity of Las Vegas and mix it with the youthful, glowing bliss that is electronic music and you get EDC. Diplo, Alesso, Hardwell and Avicii are just a few names to have graced the EDC stage.
As long as you have a sequined tutu, vibrant personality and a love for EDM, you'll fit right in at Electric Daisy Carnival.
Make sure you have a lot of rainbow-beaded bracelets to exchange with strangers and spread the PLUR (peace, love, unity and respect). That's rave etiquette 101.
Start rallying your festival buddies and see which festival fits your group's vibes. No matter where you end up, you'll always be surrounded by a variety of people who all share a love for music and childlike wonder.
Let the festivities begin!