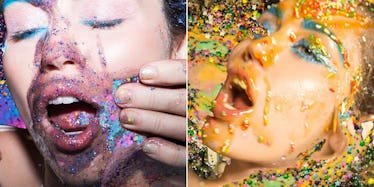 Miley Cyrus' New Album Breaks All The Rules And It's A Beautiful Mess
Dead Petz
From celeb beefs and nip slips to presidential announcements and eyeball bikini tops, the 2015 VMAs were just eventful enough to keep social media buzzing.
One of the bigger announcements from the August 30th show was the release of host Miley Cyrus' new album. After her performance on the VMA stage, Cyrus announced her album would be available for free online that night.
Whether or not this was meant as a diss directed toward Taylor Swift and her advocacy of paying for music, we knew we had to listen.
The album was released outside of Cyrus' contract with RCA Records, giving her a majority of the creative control.
For a mere $50,000, Cyrus was able to choose her own producers and collaborators. She brought on her musical inspiration, Wayne Coyne of The Flaming Lips, to produce most of the album.
Additional artists appearing on the album include Ariel Pink, Big Sean and Sarah Barthel of Phantogram. But, she didn't outsource the whole album. Cyrus either wrote or cowrote every song on the album; she even produced a few.
With so much creative freedom allotted to Hollywood's wild child, the results were sure to be epic. Cyrus embraces the weird and the spastic in this album.
Recorded on a significantly smaller budget than her 2013 smash, Bangerz, this album plays more like a demo than a radio-ready hit. Psychedelic tunes and spacey vocals meet raunchy, stoner lyrics and moments of surprising intimacy.
Miley Cyrus & Her Dead Petz is a 23-track acid trip through the dynamics of pop music. With absolutely zero limitations to stand in the way, MC&HDP is chaotically garish and just unpolished enough to make it fascinating.
The album opener, "Dooo It!" is just as strange on the album as it was live on the VMA stage. This distorted pop tune sets the stage for the mishmash of songs that follow it.
Even weirder still is the music video:
Tracks like "BB Talk" combine Cyrus' vulnerability about her breakup with ex-fiancé Liam Hemsworth with a silly spoken rant about the "googoo sh*t" she can't handle about a new relationship.
She ends it with a relatable, "Homegirl can't handle the f*cking goo."
Other standout tracks include "Cyrus Skies," which features some impressive jazzy vocals backed by a sultry beat. The song almost sounds like a Lana Del Rey tune, but if it were sung by a Tim Burton character.
Some of the tamer songs include the 80s-inspired electric pop ballads, "Lighter" and "I Get So Scared." The latter sounds like a song about Cyrus' lasting devotion to a past love. (Gee, I wonder who that could be?)
But it's not all serious on MC&HDP. True to the title, Cyrus performs a few songs dedicated to her deceased animal friends, including "Pablow the Blowfish," a surprisingly beautiful serenade to Cyrus' dead fish.
But with lines like, "Why does everything I love have to die?" she sure to bring it full circle.
Likewise, in her unapologetic silliness, "Twinkle Song" looks for the meaning behind a dream Cyrus had about a Gumby-shaped David Bowie teaching her how to skateboard. But by the end of the song, Cyrus' impressive Joplin-like screams almost make us forget how silly the lyrics were earlier.
MC&HDP is Cyrus's unfiltered aural art pop, and it's awesome. There's no one genre to describe Cyrus' music, and she embraces that.
In all its unguided random glory, this album is pure Cyrus. The only downfall is its greatest strengths also act as its greatest faults, but we have to applaud Miss Miley for her vision.
This album breaks all the rules. It's messy, but that's what makes it good. As easy as it is to dismiss, this album really does have artistry to it, even if it is covered in skin-tight latex.