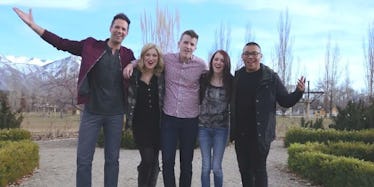 5 People Cover Love Songs Spanning 5 Decades In A Seamless Medley (Video)
Valentine's Day is just around the corner and love is in the air.
It's the perfect time to blast some classic love songs and express your feelings for another member of the human race.
A perfect way to get that lovin' feeling is by watching this amazing love song medley.
In this video, these five lovebirds sing 28 different love tunes spanning over five decades of music.
These guys sing songs by The Beatles, Stevie Wonder, N' SYNC and One Direction, just to name a few. Plus, the whole video is shot in one unbroken tracking shot.
It's pretty impressive and will get you in the mood for love.