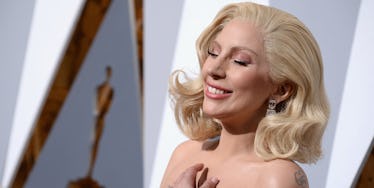 How Lady Gaga Gave Me The Strength To Move Forward After Sexual Assault
Getty Images
I'm a survivor of a sexual assault.
I've been fighting for justice against the sexual predator who almost succeeded in killing me for almost four years now.
In 2012, my then boyfriend knowingly exposed and infected me with genital herpes. He lied to all of my physicians and I about having an STD, so my treatment was delayed and obstructed.
This caused my STD to progress to herpes-meningitis and then the potentially fatal meningoencephalitis. It left me with brain damage and almost killed me. Since my diagnosis, I've been pursuing civil and criminal justice against him. I went from making six-figures as an editor and reporter in Hollywood to going on welfare and disability.
The damage the disease did to my brain was so bad initially, it impaired my ability to read and write. I've been in recovery for years now, and I've slowly been piecing my life back together. I've managed to write and publish an award-winning novel, "Malice," inspired by this experience, and I've become an advocate for other sexual assault survivors.
Since I've become a voice for others, I try my best to be strong, or to at least, portray myself in a strong light on social media and in public because I know I give other survivors strength and hope. That gives me great joy. Recently, I've struggled to put up that façade. Right before the week of the Oscars, I got devastating news from my lawyer that the trial for my civil case has been continued for the second time. My trial was supposed to start in April and it got continued until December.
The ongoing neurological problems I have from the damage to my brain affect me every single day. The emotional scars and the PTSD I have as a result of the abuse I endured affects me all the time, but it's hard to know when my PTSD symptoms will strike.
As you can imagine, as I continue to deal with my case, my PTSD is worse because I have to keep reliving a horrible period in my life. On some days, my anxiety and chronic pain is so bad that I can't even bring myself to leave the house. This year I stayed home alone on my birthday and passed on a bunch of Super Bowl parties because my PTSD was so bad.
I'd rather be alone than a Debbie Downer, especially when it can be so hard for others to understand what I'm going through. However, my publicist booked me to attend several Oscar events to promote my book and spread awareness about sexual assault, particularly, since this year's Academy Awards shed light on the topic.
I was mentally and physically trying to prepare myself to have the strength to put my issues aside and to push myself to attend these events because I knew it would be important for me. I wasn't sure I was going to be able to get it together, and that's when something magical happened.
Enter Lady Gaga.
About a week before the Oscars, Lady Gaga posted support for Kesha on her social media. I Googled Kesha, and was horrified to find out that a judge had ordered her to continue to work with her accused rapist. This made me so angry. I was already enraged that a judge had continued my civil case twice and now this.
I believe all victims have a right to a speedy trial, and dragging out my case is just causing more pain on a victim and their loved ones. However, forcing a rape victim to work with her alleged rapist is pure evil.
I told myself I needed to suck it up and put myself out there as much as possible Oscar weekend to continue to be a voice for others. And the more I read about Lady Gaga's rape experience, the more I realized why I started listening to her music more religiously after I got ill.
In 2013, when I first began my quest for justice, I would listen to her song, "Marry The Night," on my drive to meet up with my lawyer. I would chant these lyrics over and over again:
I'm gonna marry the night I won't give up on my life I'm a warrior queen Live passionately tonight
Then, I did not know she too was a survivor of a sexual assault. Now it makes so much more sense to me why I was so drawn to her music, especially during this dark time in my life.
Shortly after I got sick, my then-boyfriend continued to physically and emotionally abuse me. After he stripped me of my health, my dignity, my mental well-being and my ability to work and make money, he had the gall to tell me what a loser I was. He said I would never amount to anything.
Around this time, a friend told me that Lady Gaga lived in the same apartment building I lived in. Before Lady Gaga was famous, I was told about how Lady Gaga used to sit in the sauna in the residential building, and talk about how an ex of hers told her she had no talent and that she'd never make it in Hollywood. I sat in that same sauna after my ex had spoken similar words to me, and told myself one day I would prove him wrong just like Lady Gaga did to her ex.
Fast forward to Oscar weekend. My fiancé came to town to go to events with me and offer me support. I thought to myself, if Lady Gaga can go on stage and sing her Oscar nominated song, "Till It Happens To You" (featured in "The Hunting Ground"), inspired by her personal experience with a sexual assault in front of millions, I can bring myself to leave the house for Oscar weekend.
The day before the Oscars, as I was begrudgingly trying to get out of bed to go to the GBK Oscar gift suite at The London Hotel in West Hollywood, my fiancé informed me that there was a free Elton John concert right around the corner from where we were headed in an hour.
He said he would like to see Elton's show. I was a little reluctant to go, which I know may sound ridiculous to some people. Don't get me wrong; I'm a huge Elton John fan; however, when you have PTSD and other chronic neurological problems as bad as mine, it's hard to just simply leave the house some days -- it's especially hard to be in areas with loud music because it is so painful on my injured brain.
Before I got out of bed, I glanced at my Instagram feed. And there it was, Lady Gaga posted that she'd be joining Elton John on stage at this free concert. I knew it was a sign and I swear I had never gotten dressed so fast.
Once we got to the concert, my fiancé and I managed to get a spot just about a hundred feet from Lady Gaga and Elton John, as they sang "Don't Let The Sun Go Down" together. In that short moment, I felt free from all the pain and suffering I had endured for years.
Before the concert was over, I felt compelled to hunt Lady Gaga down so I could talk to her, even if it was just for a second. My fiancé thought I was crazy and told me I'd never find her in this sea of thousands of people. I reminded him that I used to get paid big bucks to cover celebrities for a living as a journalist, so I'd know how to find her.
Sure enough, I was able to figure out exactly where her car was and where she'd be exiting the building. I positioned myself in the perfect spot, and minutes later, the queen exited. As she walked out, I said loudly that I was a sexual assault survivor too and that I wanted to thank her for all she's done for sexual assault victims.
She literally stopped dead in her tracks, looked straight at me and with the warmest smile, she grabbed my arm and squeezed it so hard. It was a small gesture, but it had a big impact on me and it was just what I needed during a time I had been struggling with my case and PTSD. I couldn't believe how the stars had aligned that day so perfectly to receive this gift, but it was truly the kick in the butt I needed.
My encounter with Lady Gaga helped give me the strength I was trying so hard to get back. The next night, my fiancé and I attended the Roger Neal Oscar Viewing Party.
We found ourselves conversing with Hollywood legends, such as Barbara Eden and Paul Sorvino; however, my focus was on the screens in anticipation of Lady Gaga's performance of "Till It Happens To You." I promised myself I wouldn't cry. That lasted a few seconds.
I've had so many people misunderstand what I'm going through, and they try to tell me to just "get over" what happened to me. Every time someone says that to me, I've wanted to scream:
Tell me how the hell could you know? How could you know? Till it happens to you, you don't know how it feels.
Now I don't have to; Lady Gaga did it for me and for every survivor of sexual assault during her performance at the 88th Academy Awards. When Lady Gaga grabbed my arm and touched me that day, she didn't just physically touch me; she hugged my heart and embraced my soul.
At this year's Grammys, she sang about being a hero just for one day when she sang David Bowie's "Heroes" during her tribute performance to the late rock star. Lady Gaga did not win the Oscar this year; instead, she became a hero for every survivor and … it wasn't just for one day.