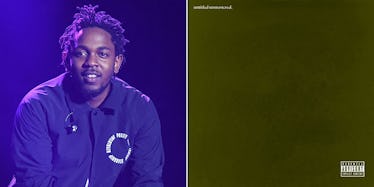 Kendrick Lamar Might Have A Secret Album Ready To Drop On Spotify
Getty Images/Spotify
Just weeks after delivering the greatest Grammys performance of all time, rumors surfaced that Kendrick Lamar may be dropping a surprise album on Thursday night.
Earlier this week the CEO of Top Dawg Entertainment, the label that Kendrick is signed with, announced it was going to release a special project this week.
In a cryptic Instagram post, Top Dawg said:
Just 2 show n*ggas I'm not playing. Ive decided 2 drop a project 1 day this week. I won't say wut day or who. It cud be 2nite So don't ask me jus stay close to the net. Is this Kool with y'all? #TDE
Then on Thursday, an album titled "untitled unmastered" was posted under Kendrick Lamar's Spotify:
The 8-track project is currently unplayable but this is the album art for the project:
Top Dawg then explained the logic behind the surprise release:
thats all u get from #TDE fam... we do shit our way...we don't rush for nobody.. https://t.co/WQp1aZbD09 — dangeroo kipawaa TDE (@dangerookipawaa) March 1, 2016
If Kendrick really does drop a new project, it's safe to say that people will quickly forget about The Life Of Pablo.
We are expecting this to be just a short EP, possibly featuring other members of TDE like ScHoolboy Q, Isaiah Rashad, Ab Soul and SZA.
We will have more information the second this new project drops.