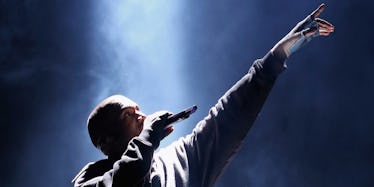 He's An Innovator: Why The Kanye West Will Always Be Relevant
Getty Images
I was never the biggest hip-hop fanatic as a kid, so I missed out on a lot of projects that any rap fan would feel nostalgic about now. But at about 10 years old, my Chinese-American neighbor, Ryan, invited me over to make sure I wouldn't miss out on what would become a classic album and time period in hip-hop.
Once "In Da Club" pierced through his speakers, I was hooked to it. I didn't know what "it" was, but I knew that I wanted to know more. And "more" were songs like "P.I.M.P.," "What Up Gangsta," "21 Questions" and to top it all off, "Many Men."
After Ryan finished bumping Get Rich or Die Tryin' (2003), I knew 50 Cent would have a dominating presence in music. He was everything everyone wanted to be at that time; he was a tough, rugged gangster, and that's exactly what his music made you feel like.
The biggest headline when documenting 50's life is the fact he was shot nine times, and despite that being the reason Columbia Records dropped him, it was the most fascinating part of his dominating gangster image.
So much so, that the album was accompanied by a film ("Get Rich or Die Tryin'"), documenting his life triumph from a drug-dealing background through gangster rap glory.
It wasn't until his 2002 mixtape Guess Who's Back graced the hands of Eminem that he was signed again to a $1 million deal under Shady Records. With executive production from Eminem and Dr. Dre, Get Rich Or Die Tryin' sold 872,000 copies within four days of the release.
It was ranked as Rolling Stone's number 37 best albums of the 2000s and second to Outkast's Speakerboxxx/The Love Below at the Grammy's for Best Rap Album that year. He would later give birth to his own label, G-Unit Records, signing Young Buck, Tony Yayo, Lloyd Banks and the Game.
In 2005, 50 followed up with The Massacre album, which featured major hits "Disco Inferno," "Candy Shop," "Just a Lil Bit" and "Outta Control." It sold around $1.14 million copies within its first week, but once again, 50 would have to settle for second place at the Grammy Awards, falling behind an album called Late Registration.
Serving as the follow-up to his debut album College Dropout, Kanye West's Late Registration provided hip-hop with an innovative approach different from his previous sample-heavy works. West has claimed that the project was sonically inspired by English band Portishead and film score composer Jon Brion, who (Brion) actually executive produced the album and provided grander instrumentation, specifically strings.
West's first two albums steered away from the industry dominant gangster rap and image that every artist seemed to portray at the time. So much so, that there was a live version of the album called Late Orchestration, which features songs from his first two projects coupled with a live orchestra.
From the socially conscious subject matter to the vast orchestra-like instrumentation, the constant musical revolutions started early in his career. Actually, the lack of gangster identity within his music made everyone — from Jay Z to music critics — skeptical of Kanye's decision to become a rapper instead of just a producer.
After giving the world two projects worth of this approach, it would be put to the ultimate test on September 11, 2007 when one of the most notorious kings of gangster rap, 50 dropped his Curtis album to compete with Kanye's Graduation.
Serving as great marketing for each project, the hip-hop world waited for a day of great competition and music. Lo and behold, Graduation outsold Curtis 957,000 to 691,000 in copies the first week, and it was ultimately awarded Best Rap Album at that year's Grammy Awards.
It was from that point on, that in the music world, September 11, 2007 would be deemed the day gangster rap died.
If Graduation was the soundtrack to gangster rap's funeral, then Cash Money rapper Lil Wayne served as an accomplice to the crime with his feature verse on the album's seventh track, "Barry Bonds."
After releasing mixtapes Dedication 2 and Da Drought 3, Wayne garnered most attention from guest appearances on other artists' singles and projects. In fact, after releasing Tha Carter III, Wayne proved that he came into his own since he first stepped onto the rap scene as the youngest member of the Hot Boys.
I remember realizing that the time from middle school until my sophomore year of high school (class of 2011), Lil Wayne was everywhere. You would turn the radio on, and he was there. You would go to a party, and he was there.
He somehow found a way to have his music playing everywhere at all times. So much so, that the suburban Parsippany High School football locker room where I was left with only listening to screamo rock music before practices suddenly switched to a Tunechi-only zone by the time his run started.
Through collaborations with music's top rappers, singers and producers, Wayne broke down doors to enter the mainstream stage, making his project one of the most anticipated releases that year. Being recognized as one of Rolling Stone's Top 500 Albums of All Time, it sold over 1 million copies its first week and 2.88 million by the end of 2008.
The triple-platinum project included major singles such as "Lollipop," "A Milli," "Got Money" and "Mrs. Officer," as well as help from names such as Jay Z, Baby Face, Bobby Valentino, T-Pain, Fabolous and to tie it all together, Kanye West. In an interview, Wayne actually mentioned how West gave him 20 instrumentals for the album, and it would've been more if he didn't ask West to "just stop."
Wayne eventually returned the favor by providing a feature verse on West's fourth album, 808s and Heartbreak, which released the same year as Tha Carter III.
Far from conventional hip-hop, West labeled this project as "pop art" because of its electronica-based sonics and influence from '80s pop stars such as Phil Collins and Boy George. The use of Auto-Tune and innovative pitch effect on the now often used 808 drums allowed West to emit his emotion throughout the array of internal records.
The album was West's expression of the pain he endured from losing his mother, Donda, to complications with surgery and ending his engagement to then fiancé Alexis Phifer. But who knew at the time that an album he only spent three months recording would forever be the staple artwork that changed the future of hip-hop?
West utilized more melodies in order to accurately express his sentiments because he felt that the technique of rapping couldn't fully achieve that. To most traditional hip-hop heads and current rap stars at the time, the album was seen as sappy and soft, and it was consequently overlooked by most in that field.
Besides verses from Jeezy and Wayne, the album was anything but "rap." Instead, Kanye sought help from other avenues such as G.O.O.D. Music's newest signees at the time, Kid Cudi and Mr Hudson on "Welcome To Heartbreak" and "Paranoid."
This project would open lanes for artists such as Kid Cudi who were influenced by hip-hop, but incorporated various genres on their sounds such as pop and rock.
Fast-forward, and Cudi has now established his own genre. Ironically, this project served as the inspiration for the game's next superstar to make his mark and take the torch from Wayne himself.
Around 2005, Wayne decided to create his own label, Young Money, and he cashed in on the biggest draft pick to date in 2008 when he invited Drake to Houston to join him on tour. At the time, the Canadian actor turned rapper released Room for Improvement followed by Comeback Season, which was shown to Wayne by J. Prince's son, Jas Prince.
In a FADER magazine interview, Jas reveals that when he discovered Drake on Myspace and first played his songs for Wayne, the Young Money president ordered Jas to "[never] play this for me again. He sucks!" But through constant effort, Wayne eventually budged and invited him on tour, where they recorded some tracks together, including "Ransom" and "I Want This Forever."
After eventually signing the OVO artist to Young Money, Drake released his breakthrough mixtape turned EP So Far Gone. This project was an early example of his 808s & Heartbreak-inspired subject matter by fusing R&B melodies and rap punch lines to convey his mindset on women, fame, and money.
In terms of musical approach of melodies combined with hip-hop flows, Drake started to form into a new age fusion between a Ja Rule and Fabolous (in my eyes). But for his first studio album, Thank Me Later, he veered from that sound and aimed to rap more, and only "Find Your Love" and "Karaoke" resembled the previous sonic.
Reaching 447,000 for first week sales (1.8 million total to date), the album was able to achieve that rap focus goal in songs such as "Light Up" and "Miss Me." But, he implemented melodic choruses and themes that would shape the next generation of music and fans.
Despite Drake's successful debut album, 2010 will forever in my eyes belong to Kanye West because My Beautiful Dark Twisted Fantasy is one of the greatest artistic bodies of work of all time. He was able to bring this brash, in-your-face presence throughout the album while detailing the themes of excess fame, sex, wealth, grandeur and, of course, ego.
We see this from the jump on the project's intro "Dark Fantasy," as well as on "Monster," which features a breakthrough verse from rap queen Nicki Minaj. Despite the stream of brashness, West was still able to tap into more sentimental subjects on records such as "Runaway" and "Blame Game."
The array of sonics on this album was this combination of his previous three projects taken to another musical level, which was typified by extremely grand and musical songs like "Power" and the Grammy Award-winning "All of the Lights."
At Coachella 2011, West gave the world a performance that featured the album draped in a stage design, including dancers and backdrop murals encompassing a classical essence. West's design for performances would further push what it means to give the people an actual show. The album won a Grammy for Best Rap Album, and it was the number one album in both the United States and Canada.
But, that Canadian crown would soon be taken back by the hometown kid, and it would never be given up again once Drake released his second studio album in 2011, Take Care. The "Drake/OVO" sound we as fans and music critics have labeled was at its peak during this project.
There was this intimacy that Drake had begun to uncap within prior works, but it was on this whole other level. It exemplified the deep emotions within many men, and it could still be sung by crowds of women.
Aspects of this album such as "Doing It Wrong," "The Real Her" and "Marvin's Room" became heartbreaking, emotional anthems to men, just like Adele's 19 was to women.
By detailing personal stories about his mother, father's absence, uncle and past loves on "Look What You've Done," Drake allowed us into his nostalgia. On the other hand, he still left us reminders that he is up there in the "bars" department with the "Lord Knows" and "Under Ground Kings" of the album.
With most of the production done by Noah "40" Shebib, who further developed the OVO sound fused with Stevie Wonder's creative direction, Take Care provided more of an R&B aesthetic. From the seven radio hit singles (from one project) to the legend of acronyms (YOLO), this was our first glimpse into how Drake would impact culture with his music.
As the popularity of Drake was cemented, I remembered the only other project in constant rotation at the time was Jay Z and Kanye West's collab-album, Watch The Throne. In fact, Kanye has stated that Drake was the reason why he felt compelled to drop the collaboration project, as Drake's run was becoming that powerful.
But not even two of most current rapper's idols could stop the Canadian artist from taking his crown, as the album won Best Rap Album at the Grammys that year. The follow-up album, Nothing Was the Same and second follow-up surprise tape, If You're Reading This It's Too Late, provided chart toppers, but they never touched that peak that Take Care is still sitting on.
Regardless, my opinion doesn't take away from the fact that he makes hits and he sells. So much so, that his surprise album sold over 1 million copies alone.
His current beef with Philly rapper Meek Mill is centered around ghost writing rumors on the OVO side, but Drake was able to come out of the whole debacle with a brand new suit, delivering a double dosage of diss tracks that Meek is just recovering from. Now, he's Hotline Bling-ing his way to his next project entitled, Views From The 6, set to drop in April of 2016.
In the meantime, we have our eyes set on Waves. With singles like "Real Friends" and "No More Parties in L.A.," we might have the "old Ye" back. But, there's something about the old Ye that many have forgotten since Yeezus dropped in 2013, and that's that Kanye West is the ultimate innovator of our time.
He is always looking to do the next thing, even when people aren't ready for the next thing.
He put orchestra strings and social consciousness on College Dropout and Late Registration. No gangster was ready for the "pop art" ballads and stories about love and loss on 808s & Heartbreak.
Hip-hop wasn't ready for My Beautiful Dark Twisted Fantasy. But, the world wanted to be ready. He's constantly pushing the sonics, visuals, feel and performance of hip-hop.
I know Yeezus might've been too much with the distorted synths, acid rock influences and constant rants, but that's where Kanye's head was at the time. And it will eventually become part of the norm sound.
I say that not because I'm a prophet, but because that's how it's always been when it comes to his music and art.
From the fashion to the stage, the Yeezus tour design took both aspects of the music to a whole other world. The stages and performance took on a Broadway manner of presentation.
He's been able to consistently give us something fresh, to the point where he's always consistent. A run in hip-hop is a rare and amazing thing, but it is just that at the end of the day: a run.
50 was a time, Wayne was a time and a large percentage of artists (not just hip-hop) will be just "a time" in their respective fields. It's too early to tell whether or not Drake's time will be just a run like his successor.
It was during conversation I had with my friend that we realized Kanye has never truly had a "run." But, very few artists like Kanye are able to withstand time by constantly innovating and re-innovating themselves without conforming to any sound saturating the current market.
Whatever the name of his next album might be, I see it as the child of his previous works coupled with something new that will further advance music to come.
That is why Kanye will never have just a run or be just "a time."
In terms of artistry, he is more than that. He is all-time.