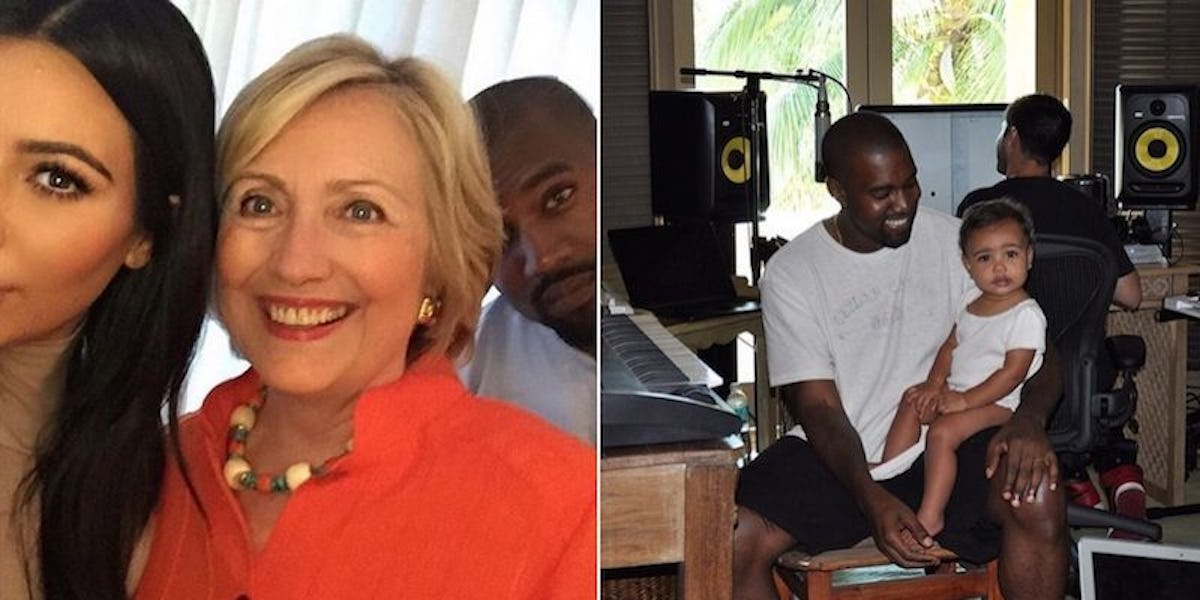 36 Things Kanye West Has Been Doing Instead Of Making Music In 2015
Kanye West has been a busy man in 2015. Surprisingly, he hasn't been making any music.
Sure, he's a grown-ass man with a family at this point in his career, but this just isn't the same Yeezy we're used to seeing.
These days, he's more focused on getting his presidential campaign ready for 2020 and making the same damn shoe in every different color instead of dropping that fire.
What happened to the Ye who gave us College Dropout, then switched it up with 808s & Heartbreaks?
What happened to G.O.O.D. Music Fridays and the follow-up to Yeezus?!
Now, we're lucky just to hear him on another artist's feature or giving a nonsensical rant at the VMAs.
Reports of his heavily-anticipated album Swish being delayed for a year are exactly what his fans didn't want to hear.
Still, we love Kanye and want nothing more but for him to make music again. It's just that 2015 has certainly not been the year for it.
Kanye West has been an extremely busy man in 2015.
Not only has he been eating more ice cream than ever...
...he's been learning how to bake his ass off.
Maybe he should lay off the fast food, though.
Eating that all day will definitely send him into an LV coma.
But it's not like he hasn't been going to Jamba Juice every day to get his vitamins.
When you've reached the Kanye-level of success, it's good to enjoy the fruits of your labor and go on vacations...
...to amusement parks...
...and go go-karting...
...and jet skiing...
...and actually skiing...
...but whatever you do, don't make any music.
Just kidding, he's done a couple of songs this year.
Of course, Kanye is still a busy man and has been focusing on his fashion career.
That includes releasing the Yeezys in every shade of brown...
...and making sure his swag never gets rained on.
Kanye has no problem living that civilian life. Here he is going grocery shopping...
...playing Connect Four...
...and talking to Jesus.
Nobody plays basketball with more swag than Kanye...
...or has a better time, in general.
Kanye had an amazing time at the Super Bowl earlier this year...
...and he's become a regular at NBA arenas across the country...
..where, of course, he likes to eat nachos.
He'll even park his car at a meter...
...and attend dinner parties he wants no part of at all.
This doesn't mean he won't start turning back up eventually...
...as long as his friends show up.
No lie, the biggest reason for the lack of music is all the cuffing he's been up to...
...because this is some next-level cuffing he's doing.
Low key, Kanye has just been sleeping his ass off lately....
...literally every party he goes to, he remains the same.
But Kanye can do anything he wants.
He's the one who can perform in a lake...
...and the one who can switch up his emotions at any given second.
Let's just hope he makes music again before this actually happens.