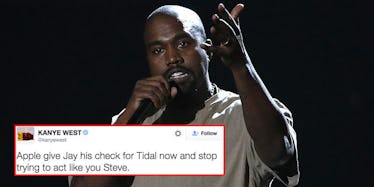 Kanye West's Latest Twitter Rant Defended Jay Z And Fired Shots At Apple
REUTERS
It looked like Kanye West had taken a break from stirring up controversy on social media, but now that break seems over.
On Saturday, the artist hopped on Twitter for a mini rant that went straight at tech giant Apple. Here's what Yeezy had to say:
It seems pretty obvious what 'Ye is alluding to in this latest series of tweets: Jay Z's negotiations with Apple for the acquisition of Jay's music streaming service, Tidal, of which Kanye is a co-owner.
At the end of June, The Wall Street Journal reported Apple had begun talks to acquire Tidal, which debuted less than two years ago. Since the Journal's initial report however, not much word has been given on the amount of progress that has occurred in those "talks," which hints at there being no progress in the first place.
That lack of progress isn't exactly surprising, either. As The Verge's Micah Singleton mentioned, there was a history of bad blood between Apple and Tidal, particularly due to reports Apple had been sabotaging Tidal's ranking within the App Store.
If Kanye's tweets are any indication, there's still bad blood now. But what fun would this be if I didn't try to read between the lines? I may not be 100 percent correct in guessing what Kanye means, but it's a Saturday; we've all got the time and we're gonna do it anyway.
Translation: Tidal, which has over 4 million subscribers, according to CNBC, and Apple Music, which has over 13 million, should join forces to better service the fans who should have access to the best of both companies offer.
Translation: Kanye name drops a lot of important figures here, so we'll have to sort out their roles in this process. There's Apple CEO Tim Cook, Tidal majority owner Jay Z, Beats co-founder and Apple Music exec Jimmy Iovine, rapper Drake and Apple Music head of content Larry Jackson.
Basically, Kanye wants them to have a sit down and just squash the beef.
Translation: This seems like an admission there's pettiness on both sides, pettiness that should end soon to better service the fans.
Translation: Oh, this one is easy. One, Apple, just pay Jay Z what he wants for Tidal. And, two, Tim Cook, you ain't no Steve Jobs.
Ah, gotta love 'Ye.
Citations: Why Apple buying Tidal makes sense (The Verge), Streaming music 'war' looming between Jay Z's Tidal and Apple (Page Six), Kanye Says Apple and Tidal Beef "Fucking Up the Music Game" (Pitchfork), Apple Music execs talk strategy behind securing exclusive deals with artists and labels (9to5mac), Apple in Talks to Acquire Jay Z's Tidal Music Service (The Wall Street Journal), Kanye West hits out at Apple-Tidal rivalry, says Cook should 'cut a check' to Jay-Z (CNBC), Apple Music now has 13 million paying subscribers, up from 11 million in February (9to5Mac)