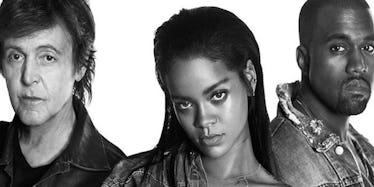 Rihanna Drops Acoustic Banger With Paul McCartney And Kanye West (Video)
We've got a video for the new song by Rihanna, Kanye and Paul McCartney, and it's pretty damn great.
The song is called "FourFiveSeconds," and it features vocals from RiRi and Yeezy and acoustic guitar accompaniment from Sir Paul.
Based on what we've heard so far, Kanye's collaboration with McCartney results in a definitively pop sensibility and, I have to say, I'm digging it.
I don't think Kanye is the best singer in the world, but he's smart enough to know when to take a step back and let Rihanna do the heavy lifting in this track.
Honestly, Kanye serves very little purpose in this song, and I wish there were vocals from Paul. But, all in all, it's a great pop song that deserves to be played on repeat. Give it a listen up top.