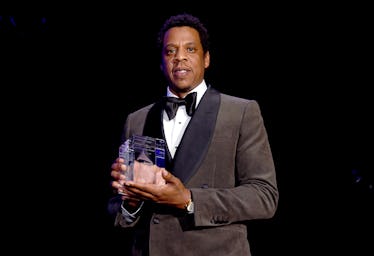 How Jay Z And Dame Dash Went From Business Partners To Sworn Enemies
Michael Kovac/Getty Images Entertainment/Getty Images
During the 90s, Shawn "Jay-Z" Carter, Damon "Dame" Dash and Kareem "Biggs" Burke came together and created a brand that will forever be synonymous with hip-hop greatness.
Roc-A-Fella Records was not only the launching pad for Jay Z's stardom, but it created a starting point for his Roc Nation label and, in turn, the careers of countless artists and producers in the game.
However, a falling out between Jay Z and Dame Dash would forever shape the future of the company and the lives of two men who started out good friends and turned into toxic business partners.
A conflict of interest is what ultimately drove the two apart. However, it remains unclear as to what exactly sparked the feud. But, even 15 years after the fact, one thing is clear: Damon is still sick!
In a recent interview on "The Breakfast Club," Dame Dash nearly lost it when Ebro asked about his beef with Hov, and it's clear the bad blood is still too much for him to discuss.
What exactly could've happened to make a grown-ass man flip out about some sh*t that happened nearly two decades ago?
This is the story of how Jay Z and Dame Dash went from ruthless partners in business...
...to acquaintances who've only seen each other twice in the last 15 years.
In 1996, Jay Z, Dame and Biggs teamed up to launch their own label after not receiving any record deal offers.
Together they would launch Roc-A-Fella Records and release Jay Z's first album, Reasonable Doubt.
Over the next few years, Jay Z would become a success as the label's only artist and earn the support of many, including Biggie Smalls.
In 1998, "Hard Knock Life" became Roc-A-Fella's first platinum release.
Jay Z released his fifth studio album by the year 2000, and he was one of the biggest names in the rap game.
He began collaborating with more artists and producers and advanced the careers of Pharrell, Timbaland and Jermaine Dupri.
Roc-A-Fella also began acquiring artists such as Beanie Sigel, Memphis Bleek, Cam'ron and The Diplomats.
While Jay Z hinted at retirement in 2002, Dame Dash began to bolster the label's roster by adding Ol' Dirty Bastard and M.O.P.
Around the same time, rumors of tension between them surfaced because of Dame's behavior in front of the media.
With Roc-A-Fella reaching its pinnacle of success, Jay Z felt Dame wasn't playing his role as a businessman.
To this day, that's exactly what Beanie Sigel thinks happened between the two.
Between money, egos and women, the two no longer saw eye to eye and that upped the next move.
Instead of retiring, Jay Z agreed to become the CEO of Def Jam, the company that ended up buying Roc-A-Fella.
The two officially split after Jay Z, Burke and Dash sold the remaining 50 percent stake in Roc-A-Fella to Island Def Jam.
This rare footage of a Roc-A-Fella board meeting shows how tempers were flaring at the time.
At the same time, recently signed artist/producer Kanye West released his debut album, The College Dropout, in 2004.
Dame would leave and start his own label, Roc4life, which would later become Dame Dash Music Group.
The two would fight over talent as The Diplomats would go on to join Dash and start dissing Jay Z.
Of course, Kanye wisely chose to stick with Hov, and luckily, it worked out for the both of them.
About 15 years after the fallout, Dame Dash still sounds mad about it.
But, Dame still claims everyone is blowing it out of proportion.
In an interview with BET, Dash says everybody is gassing it:
Me, Jay and Cam could sit down and do business at anytime. We're gentleman, it's about money. Why [wouldn't we be able to]? 'Cause we're black? Anytime people have an opinion about each other in our culture, that means we're going to fight each other on sight. It's 'cause we're black? It's the most racist sh*t in the world... What's the beef? There's no beef. You think I'm going to swing on Jay?'
In 2013, Jay Z said he still has love for Dame despite their distance.
Again Hov has been busy as a businessman well on his way to a billion dollars to worry about old beef.
That's not to say Dame Dash isn't successful in his own right...
...Jay Z has just been doing a hell of a lot better.