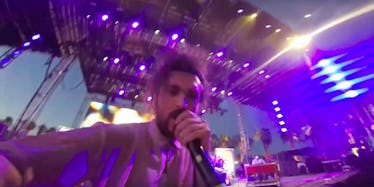 This Guy Threw His Camera On Stage At Coachella For Some Amazing Footage
YouTube
YouTube user and videographer Samuel Garza got the most amazing footage during the opening weekend of Coachella after tossing his GoPro camera onto the stage during the Edward Sharpe and the Magnetic Zeros concert.
While Sharpe was belting out the song, "Man on Fire," Garza (who had a pretty dope spot in the crowd to begin with) got the wave to pass his camera over. Unsurprisingly, he jumped on the chance to get some rare footage and launched his camera.
In the video above, you can see the camera flip around until Sharpe takes over and nails a panoramic shot of the cheering crowd. Needless to say, moments like these are what Coachella is all about.
Watch the video above to get a piece of the action and make sure to catch up on all of Elite Daily's Coachella coverage here.
Citations: Edward Sharpe and the Magnetic Zeros - Man On Fire - Coachella 2016 Weekend 1 - GoPro Clip (YouTube)