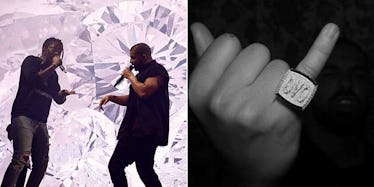 Future Gave His BFF Drake A Diamond Pinky Ring And It's Absurdly Large
Drake and Future owned 2015. There's no disputing that.
After having their respective albums reach number one this earlier this year, they came together for a mixtape that hit number one, too!
And they aren't stopping. Both announced they're dropping another album each before the end of the year, officially making it quiet for all other rappers in the game until January.
So, what do you do when you win back-to-back Super Bowls and are going for the three-peat? You get really big pinky rings!
Future sent this really big ring to Drake as a gift, and now we know they're BFFs for life!
Here it is up close where you can see the diamond-encrusted "OVO."
Here it is with Drake and his dad!