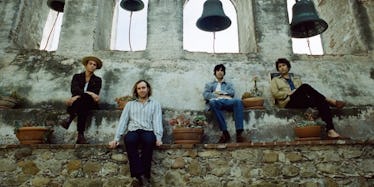 Your Perfect Summer Playlist, According To Full Moon Festival Headliners Allah-Las
Laua-Lynn Petrick
Summer's not over yet. You know what that means, right?
It means you still have time to reorganize your epic summer playlist and keep jamming until September 22. If you're looking for a few new additions to introduce to your playlist, look no further than the Full Moon Music Festival lineup.
The festival, which takes place on August 20 and 21 in New York City's Governor's Island, showcases perhaps one of the most well-rounded, eclectic groups of musicians music festivals have to offer.
The Full Moon stage will be home to 12 artists over the course of two days as they perform the best ear candy you could ever ask for this summer.
Nearly 10,000 people will trek over the New York harbor to witness acts like Santigold, SBTRKT, Pusha T, Allah-Las, Escort, Julio Bashmore, Lolawolf and more.
Set times announced! #FullMoonFest #NYC pic.twitter.com/RljsBLFmWp — Full Moon Festival (@fullmoonfestnyc) August 17, 2016
As part of preparation for the festival, Los Angeles-based band Allah-Las have shared their flawless summer playlist to get you in the mood.
They prefaced the list, saying,
Seems like the moon is a recurring concept in all kinds of art forms. Something about it is romantic, mysterious, delicate. Providing just enough light to navigate dark roadways and empty seas, but never enough to do so with confidence in what you'll find come morning light. From the moon we get the tides, from the tides the natural ebb and flow of existence; a pulse to be measured, a pendulum silently swinging. So here it is, a collection of moon tunes for moon loons. Enjoy.
From campfire classics to heart-pumping hidden gems, these tracks are sure to set the tone for the rest of the season.
Go ahead, revitalize your summer with these "moon toons." Your iTunes music library will thank you later!
Eden Ahbez - "Full Moon"
Savages -- "Gone to the Moon"
Keven Ayers -- "Caribbean Moon"
Can -- "Moonshake"
Van Morrison -- "Moondance"
Thin Lizzy -- "Dancin in the Moonlight"
JJ Cale -- "Cajun Moon"
Gun Club -- "Moonlight Motel"
Cal Tjader -- "East of The Sun (And West of The Moon)"
Television -- "Marquee Moon"
Neil Young -- "Harvest Moon"
The Moon -- "Brother Lou's Love Colony"
Nick Drake -- "Pink moon"
So. Many. Vibes.