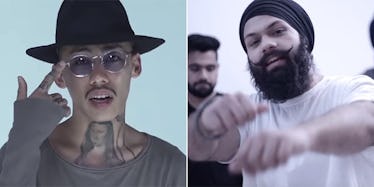 This Is What Hip-Hop From All Around The World Sounds Like
YouTube
Hip-hop has come a long way since it first originated in the South Bronx in 1973. Back then, it was just new music to dance to.
Today, it's evolved into a cultural phenomenon, the reason behind social change in our country and a multi-billion dollar industry.
Over the years, that culture has spilled over to other parts of the world and places you'd probably never expect.
From Pakistan to Japan, all the way down to Australia and everywhere in between, there are different subcultures of the genre popping up literally everywhere you go.
Hip-hop is all about sharing ideas and telling real stories, which is something everyone can do. And on every street corner of the world, you'll hear something different.
You might not understand WTF they're saying, though.
JME from London, England
One of the most prominent hip-hop subcultures in the world was started in London, England back in the early 2000s when acts such as Dizzee Rascal, Wiley and Skepta pioneered Grime Music.
The dance hall inspired drum and bass style of delivery has been seeing a recent resurgence and is blowing up on a mainstream scale, gaining more recognition throughout the states.
JME is one of those English emcees helping break the mold.
With more Americans collaborating with Grime artists (Kanye West and Drake both have), we could see this small subculture turn into something bigger as more UK artists start to break into a new market.
Emicida from São Paulo, Brazil
Emicida is a Brazilian emcee who also happens to be one of the most talented artists on the list.
His soulful music, with lyrics about hardships growing up in poverty, is wildly popular in his country and he's well respected because of it.
The Brown Boys from Phagwara, India
This video of Karenga Aayi and the "Brown Boys" went viral recently and for good reason -- it's lit!
The trap beat is reminiscent of hip-hop in the states today, but that Indian dialect over it is something no one's ever heard before!
The video is legit too and a lot like Chief Keef's empty mansion house arrest videos. With a beard like that, Karenga could easily blow up in the states some day.
Keith Ape from Seoul, South Korea
Sure, it might be a rip off of OG Maco's "Bitch You Guessed It," but these dudes killed it in their own right. Regardless, it got over 15 million views!
Hip-hop is quite popular all throughout Asia as you'll see more below.
KOHH from Tokyo, Japan
KOHH is clearly an artist influenced by American culture, but he's also pretty much the biggest thing in Japan right now.
The track "Ray Ban" is hands down his hottest song out and it's definitely safe to call him the Japanese Tyga.
Ramallah Underground from Ramallah, Palestine
With deep lyrical content about life in the middle east and old school beats that don't get used anymore these days, Ramallah Underground is one of the nicest in Palestine.
The video shows a lot of the harsh realities of living in the area but, like so many other great hip-hop artists in the world, that's inspired some great music.
Bliss n Eso from Sydney, Australia
Bliss n Eso are an extremely popular hip-hop band in Australia, where they've gone multi-platinum thanks to hits like "Up Jump The Boogie" and "Bullet and a Target."
Considering the three members are all childhood friends who have been making music together since 2000, we're not surprised by their commercial success.
They have five studio albums and two number one debuts.
Yung Lean from Stockholm, Sweden
The funny thing about 19-year-old rapper Yung Lean is that he's actually more poppin' in America than he is in his own home country of Sweden.
After a few of his videos started to go viral in 2013, his "Sad Boys" movement became a legit global phenomenon.
He's since collaborated with artists such as Travis Scott and even headlined his own show in New York.
His video above for the song "Kyoto" has over 10 million views on YouTube.
L'Entourage from France
The collective made up of a street team of artists, producers and designers, L'Entourage takes after similar American hip-hop groups.
Their old school style is very popular all over France as hip-hop continues to grow throughout the country.