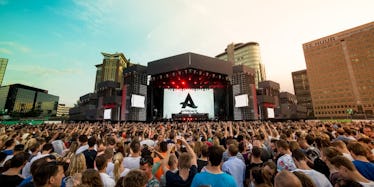 According To New Ticket Sales Data, EDM Festivals May Actually Be Dying Out
Shutterstock
At this point, whether you're an electronic dance music fan or not, there's a big chance you've been to at least one EDM festival.
Let's be honest, there's nothing quite like an event filled with neon-wearing, rave bead-collecting party animals dancing the night away to an uptempo playlist of electronic hits that all sound the same. I, too, remember my first time.
But could these exhilarating, Molly-fueled EDM festivals be on their way out?
Despite loyal fans and avid ravers, new data indicates a steep decline in ticket sales for some of the most popular EDM festivals in the scene. According to a recent data report from Ticketbis, several festivals saw as much as a 78 percent drop in ticket sales.
From 2015 to 2016, Tomorrowland Europe saw a 36 percent drop while Tomorrowland Brazil saw a 78 percent drop in ticket sales. Other festivals, like Stereosonic and Creamfields, saw 15 percent and 86 percent drops respectively in sales.
As for everyone's favorite EDM event, Ultra Music Festival, all editions outside of Asia saw a 31 percent drop in ticket sales overall.
Total EDM ticket sales declined by 49 percent overall from 2015 to 2016. I think it's safe to say people are finding other ways to spend their play money this time around. But is it an event thing or a music thing?
Other festivals are still thriving outside of the EDM space indicating it may have something to do with the genre itself.
Ticketbis also found alternative festivals, such as Estereo Picnic Festival in Colombia, saw ticket sales increases as high as 200 percent. Lollapalooza's sales increased by nearly 64 percent, and the NOS Alive festival trailed closely behind with a 49 percent increase in ticket sales from last year.
With overall EDM sales in decline, alternative festivals saw an 80 percent increase from 2015-2016. Maybe people just like the idea of festivals in general, but aren't married to one particular genre of music.
You can't help but wonder where EDM's popularity will be in the next five to 10 years. It feels like it was just yesterday it was 2011 and we were all raving in our sleep.
We'll just have to wait and see what happens!