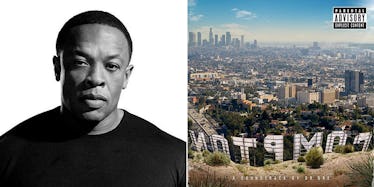 Dr. Dre Will Donate Royalties From His Album To New Compton Arts Center
The last album Dr. Dre released was the Chronic 2001, and (confusingly) the year was 1999.
It's been a hot minute and a lot has changed since then -- like the fact that he's almost a billionaire -- but 16 years later, Dre finally dropped a new project called Compton in anticipation of the new N.W.A movie "Straight Outta Compton."
According to Rolling Stone, Dr. Dre is donating all of his artist royalties from the album to help fund a new performing arts center in his hometown of Compton.
In an announcement on Beats 1 radio, Dre said,
I feel it's the right thing to do and I hope everybody appreciates the work I put into this album. We've reached out to Aja Brown quite a few times in the last month or two. I've been really trying to do something special for Compton and just couldn't quite figure out what it was. She actually had this idea and she was already in the process of working on it. I said, 'Boom, this is what we should do.'
The new album includes features from Kendrick Lamar, Xzibit, Snoop Dogg, Eminem and more.
"Straight Outta Compton" comes out August 14 and depicts the journey some of the most legendary West Coast rappers and producers took to change the culture.
Dr. Dre has been making an impact in the community for over three decades now and continues to bring pride to his hometown.
Citations: Dr. Dre Donating New Album Royalties to Fund Arts Center in Compton (Rolling Stone)