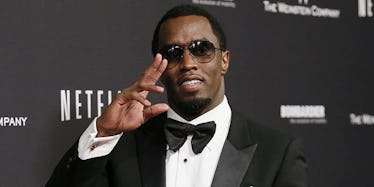 Diddy Announces He's Retiring From Music Soon To Focus On Making Movies
REUTERS
Diddy has been poppin' since the early '90s and it hasn't been by accident.
He's worked harder than just about everybody to get where he is now, and while he's both an entrepreneur and entertainer, it's hard to label him as just one thing.
Fresh of dropping his latest project, MMM, the man also known as Sean Combs recently announced he will be releasing another album, No Way Out 2, and then retire from music all together.
As for why he's decided to step away from the game, in an interview with Cigar Aficionado magazine, he said,
I'm going to put out my last album and devote 100 percent of my time to doing films... I want to stop at a great place and a final album is a great place to stop. I want to take a victory lap, to do a world tour and really enjoy it once last time.
This is, of course, the sequel to his 1997 album, No Way Out, and we can expect some big features in the way of top production on this project.
While we don't blame Diddy for chasing the real money in the movie business, let's be real when we say this is probably not going be the last time we hear from him on the track.