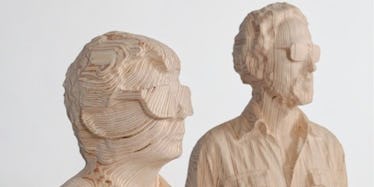 Daft Punk's Faces Are Revealed In The Form Of 3D-Scanned Sculptures
The members of Daft Punk are notoriously private about their images.
When in public, they're almost always seen wearing robotic helmets. There are only a few photographs of them without the helmets on.
But, one artist gave us another glimpse at the French duo sans helmets.
The artist is Xavier Veilhan and he captured the likenesses of Thomas Bangalter and Guy-Manuel de Homem-Christo in sculptures made of birch plywood.
Veilhan 3D scanned Bangalter and Homem-Christo to make the works of art for his new series titled "Producers."
According to Veilhan, the Daft Punk guys chose to be featured without their disguises. He said,
The funny thing is I didn't even ask them. It was a very logical response to my proposal: I proposed to introduce them as producers, not as musicians, and so after talking to them, we decided that they should appear with their civilian names... They proposed to me: 'Okay, we should make the sculpture the non-existing image of us. So if somebody wants to see how we are like in real [life] they'll have to look at the sculpture.
The exhibit opens today in New York at Galerie Perrotin.
You can check out the Daft Punk sculptures down below.
Citations: Daft Punk Depicted Without Masks in New Sculpture (Pitchfork)