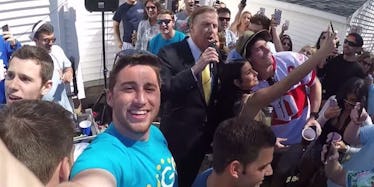 College President Shows Up To Party And Tells Students To Keep Partying (Video)
Getting caught partying by a school administrator is every college student's worst nightmare, especially if anyone in attendance is underage.
But not at Quinnipiac University.
Recently, a bunch of students were going hard at an off-campus day-drinking extravaganza when the school's president, John L. Lahey, randomly showed up.
Instead of shutting down the party (or reprimanding the students, who very well may have been underage), the super chill prez actually encouraged the booze-fueled backyard bash.
First, he grabbed the mic and joked that he could "buy all of these houses," whatever that means, and then he told the mass of students,
I love you all! Have a great weekend! Be safe!
A video of his speech surfaced online, and it has locals pretty pissed.
One woman told the New Haven Register,
The fact that he participated as a de facto partner by attending and celebrating... shows an unfortunate and disappointing arrogance on the part of the university.
Somehow, we bet the students disagree.
Citations: Quinnipiac President Encourages Student Party (NYMag)