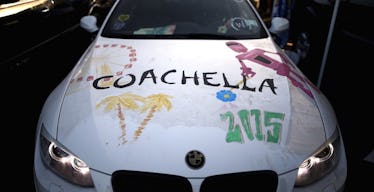 Arrive In Style: Here Are 13 of The Best Rides For 'Carpoolchella'
Reuters
The Coachella Valley Music and Arts Festival is right around the corner.
Your clothes are packed; your flower crown is made, and your Coachella music lineup is set. There's only one thing left to do: Get there.
Sure, the drive from the LA airport to Coachella Valley can seem daunting, but when you have car full of friends, the time will breeze by.
Don't have friends to tag along with? Fear not; #Carpoolchella is here.
Each year, thousands of strangers team up to both have a good time and help save the environment by carpooling out to the desert music festival.
Coachella even rewards this awesome behavior by giving away prizes, including VIP passes for life, for having the dopest vehicle in the lot.
Check out a few of the amazing rides we found on Instagram under the tag, #Carpoolchella.