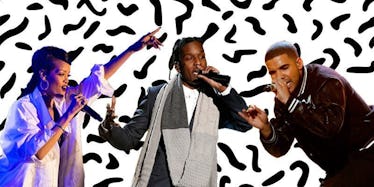 People Are Already Predicting Who Will Headline Coachella Next Year
REX/Shutterstock
Despite having to wait an entire year to attend the event, avid festival-goers are already predicting which of their favorite acts will grace the stage at Coachella 2017.
At last year's event, the massive, star-studded Coachella lineup included performances by Calvin Harris, Ellie Goulding, A$AP Rocky, Zedd, Ice Cube, LCD Soundsystem, Major Lazer and more.
But festival-lovers everywhere just can't help but wonder what the 2017 lineup will look like.
Luckily for their wildly vivid imaginations, fans took to Coachella's online discussion forums to voice their artist wish lists for April 2017.
Without further ado, here are some top tier headliner predictions for Coachella 2017.
The Weeknd
Justin Bieber
Kanye West
Frank Ocean
Missy Elliot
Kendrick Lamar
Ed Sheeran
The Strokes
Metallica
Daft Punk
Gorillaz
Radiohead
The xx
Beyoncé
David Bowie (hologram)