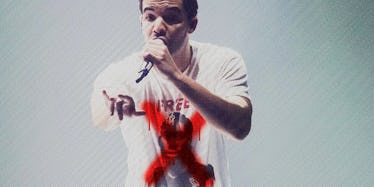 Checkmate: Drake Remains As Classy As Ever With 'Charged Up'
Twitter
Unless you were living under a rock over the weekend, you witnessed Drake step into his rightful place as the lead MC of rap.
This past Saturday, Drake took to his "OVO Sound Radio" show (streaming on Apple Radio) and unleashed a quality track, which appears to diss rapper Meek Mill, setting the Twittersphere and the entire Internet ablaze.
As a fan of the rap game and the culture, I have personally waited for this moment. And I can say with full confidence, Drake did not disappoint.
Here are six reasons why Drake can now comfortably sit atop hip-hop's throne:
1. Patience
July 22
After Meek Mill proclaimed Drake didn't write his own rhymes, the Internet waited patiently for "6 God's" response.
There were endless memes dissing the rapper, and radio personality, Funkmaster Flex, even released a reference track of Drake's alleged ghostwriter, Quentin Miller, rapping over the song, "10 Bands."
We all knew Drake would eventually respond to the allegations, but in typical Drake fashion, he refrained from using social media.
Taking a page out of Jay Z's book, he controlled his emotions and kept up the radio silence, while we all continued to refresh his Twitter and Instagram accounts.
July 23rd
On Thursday morning (day two), WorldstarHipHop uploaded a video of Meek Mill onstage (at the "Pinkprint" tour in Virginia) exclaiming, "Shouts out to Drake. Let him be great!" This left everyone who was paying attention to the so-called beef very confused.
This was totally unexpected, as the day before, Meek Mill questioned another rapper's pen game without any substantial evidence to back it up (the cardinal sin of rap).
Then, he was caught on video praising the very man whose greatness he just questioned.
Am I missing something here? So, what did Drake say to this clear change of attitude? Absolutely nothing. There wasn't a peep from Toronto.
July 24
When the Internet calmed down a little on Day Four, rapper and songwriter Quentin Miller wrote a detailed Tumblr post:
"I am not and never will be a "ghostwriter" for Drake … I'm proud to say that we've collaborated ... but I could never take credit for anything other than the few songs we worked on together."
So, what does Drake have to say to about this online confession that puts him in the clear? Nothing. Drake was just somewhere out in the real world plotting his next diabolical move.
July 25
Social media chatter began after Drake and many members of OVO Sound (40, OB O'Brien, Oliver El-Khatib and Chubbs) announced on their Instagram accounts that people should tune in to Apple radio at 6 pm.
Many fans were excited and left comments predicting that this was going to be Drake's way of responding to Meek Mill.
2. The Chess Move
Drake waited for the perfect platform to deliver his response. He didn't waste any precious moments (as so many rappers in his weight class do today) by spending time on social media.
Drake maintained his supreme aura around his brand by making sure all of his moves were calculated. He stuck to what he knows best: bars.
For those who tuned in at 6 pm on Saturday evening, 40 (producer and right-hand man to Drake) began the "OVO Sound Radio" show by playing a playlist mix of trap-inspired songs.
At around 6:45 pm, Drake entered the conversation. He explained he had come back from a charity event, and he had just spent "30 to 40 minutes in the booth."
Then, Drake began his playlist. Four to five minutes into the mix, the audience heard a melodic beat playing.
"I did some charity today for the kids/ But I'm used to it cause all y'all charity cases."
We knew this was the response we had been waiting for.
3. Spitting Straight Facts
Let's break down the most pivotal lines of Drake's "Charged Up."
1. "I stay silent 'cause we at war and I'm very patient."
Drake has a history of not quickly responding to his competitors, and strategically plotting his moves. As his rap mentor Lil' Wayne would say, "Real Gs move in silence like lasagna."
2. "Must I remind you that Jimmy got 20 million on it?"
Drake recently inked a deal with Apple that was reportedly worth around $20 million. The "Jimmy" in this line refers to music mogul and innovator Jimmy Iovine, founder of Interscope Records.
3. "Done doing favors for people/ 'Cause it ain't like I need the money I make off a feature."
Drake has a catalog of hit songs. So, if he never did a feature record ever again, he likely wouldn't lose any sleep over it.
Like it or not, the rap game and rappers today need Drake more than he needs them.
To make matters worst, as a lead artist, Meek Mill has only charted the top tier of Billboard's Hot 100 four times in his career. (Would you believe me if I said Drake is featured on two of those songs? We have "Amen [feat. Drake]" and "RICO [feat. Drake]." #Ouch.)
4. "I see you n*ggas having trouble going gold/ Turning into some so and so's that no one knows."
Drake pulled a Beyoncé earlier this year when he surprisingly released his mixtape, If You're Reading This It's Too Late. The album debuted at number one on Billboard's 200 chart, selling 495,000 copies in its first week.
It's been three years, and Meek Mill's debut album sits at 414,000 copies. His recent effort, Dreams Worth More Than Money, sold 215,000 copies in its first week.
5. "No woman ever had me star struck/ Or was able to tell me to get my bars up."
This is a direct jab at Meek Mill's recent antics in his very public relationship with rapper Nicki Minaj, who some even claim is a better rapper than him (#DoubleOuch.)
4. Remaing Humble To The OGs
Even though Drake is clearly in his own lane in the rap game, he still humbles himself down to the OGs.
He honestly has an appreciation for those who have come before him, and there is never a time he isn't speaking highly of Lil' Wayne, Kanye West and Jay Z.
Speaking of Jay Z:
"I still got love for my idols/ I got me a deal with Apple and I still feel entitled."
The idol he is referring to is Jay, of course, and he cleverly ties in the world "entitled" with "TIDAL," which is Jay Z's music venture that is in direct competition with Apple Music.
This is a wickedly smart line with just the right amount of braggadocio.
5. The King Of Subliminal
When Drake takes shots at his rivals, he never really states any actual names.
He's learned to be subtle in his delivery, but everyone knows he is talking about Meek Mill in this diss track.
The next two lines further solidify just how coy, yet direct he can truly be:
1. "Come and live all your dreams out at OVO/ We gonna make sure you get your bread and you know the ropes."
Meek Mill's brand has always been DreamChasers, and Drake once again used a play on words.
This time, he called out all of artists on Meek's label, telling them to come roll with the winning team because they apparently do it better.
2. "Rumor has it, I either f*cked her or I never could/ But rumor has it, hasn't done you n*ggas any good."
Will we ever know for sure if Drake and Nicki Minaj were more than just friends? This line is only meant to add fuel to the fire and increase Meek Mill's insecurity.
6. Culturally Relevant
On Saturday, I noticed how Drake remained the number  one trending topic on Twitter in the United States for up to seven hours (8 pm to 3 am).
Trending topics included #OVOSOUNDRADIO and then "Charged Up." There were endless memes of people's reactions toward the release of the diss track, and major publications were discussing the record's content.
Today, we must all admit to this simple fact: Whether or not we are fans of Drake's music, the man does have the uncanny ability to play the rap game like one big chessboard.
He strikes while the iron's hot, and he does it in a way where we end up only discussing his rap bars (the place where it counts).
We stick to straight talk about what he said over a beat, not petty feuds or his personal life.
On the same note, what do we, the general public, know about Drake outside of what he tells us in his lyrics? The man rarely ever goes and posts Twitter rants (like his competitors).
And time and time again, he puts his money where his mouth is, and he delivers as an MC with timely content.
To add insult to injury, neither Drake nor anyone on his OVO team named any of the released tracks on Saturday night.
Drake blessed the online world with three new songs, and he left it to us to come up with the titles "Charged Up," "Hotline Bling/Cell Phone (Cha-Cha Remix)" and "Right Hand."
Drake just sat back as the Wizard of OVO, and watched the Internet world go crazy.
In all this hoopla, we were left wondering what Meek Mill's ultimate response would be. Would it be an epic diss track of his own?
Would it be his own version of radio silence, while the world anxiously awaited his next move?
No, not even close. You see, Meek Mill did what he does best.
He tweeted:
And 30 minutes later, he tweeted again:
After Saturday night, I've decided "Meek" is a very fitting name for him as a rapper.
He openly questioned the credibility of the number one most sought after rapper in the rap game, and when said rapper delivered, what did Meek Mill do in return?
He continued to utilize social media to further establish Drake as the undisputed champ of the game.
I have one word for you, Meek: checkmate.