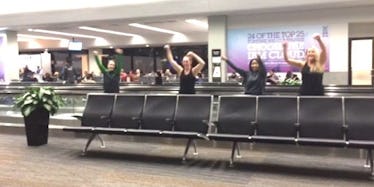 4 Friends Sang Beyoncé's 'Flawless' To Pass Time While Stuck At Airport (Video)
Getting stranded in an airport for an extended period of time can be a nightmare.
You're stuck in a crowded and uninviting place with not a whole lot to do. But, with a little imagination, you can make the best of a bad situation.
That's what four Beyoncé-loving friends did while stuck in the San Francisco International Airport for 13 hours.
To pass the time, they made a little music video set to Beyoncé's "***Flawless."
The video is pretty cute, and I'm sure it made their wait a little more tolerable. Check it out above.
Citations: This Airport Performance Of Beyonces Flawless Is Damn Near Flawless (BuzzFeed)