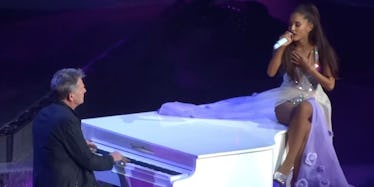 Ariana Grande Covered A Whitney Houston Song And It's Everything (Video)
Say what you will about Ariana Grande, but the young singer has an incredible set of pipes.
She recently showed off her vocal abilities at a concert in Inglewood, California.
Songwriter David Foster joined Grande for a special rendition of Whitney Houston's "I Have Nothing."
The song was written by Foster and first appeared in the Houston-starring film "The Bodyguard" back in 1992.
Apparently, Grande has been a fan of the song for a long time, and it really shows in this clip. She knocks it out of the park.
Give it a look and a listen up above.
Citations: Ariana Grande Stuns with Whitney Houston I Have Nothing Cover (Celebuzz)