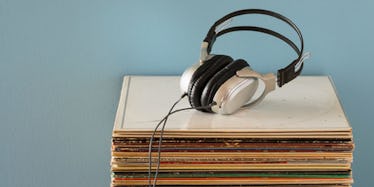 This Is The Only Album You Absolutely Have To Listen To While Stoned On 420
Sure, there's no shortage of great albums to accompany the cannabis experience. Whether you're into hip-hop classics, alternative rock jams or the psychedelic end of the spectrum, any album can be a stoner album if you enjoy listening to it while high.
That being said, there is one album that easily tops them all: Colors by Ken Nordine.
The album, released in 1966, came about after famous voiceover artist Ken Nordine linked up with the Fuller Paint Company to do a handful of radio commercials. After the campaign's short run wrapped up, fans called into radio stations asking for the ads to be replayed.
That gave Nordine the idea to rewrite the scripts for an unsponsored concept album that combines word-jazz with creative interpretations of colors. Each song embodies the spirit of a color, making your average oranges and violets more like characters you've seen around the neighborhood and have come to love.
With a total of 34 short, punchy songs on the album, each covering a unique hue, your high mind will be entertained for the better part of one vibrant hour. Keep scrolling for the best songs I could find on YouTube to get a sampling of his musical genius.
"Maroon"
It comes as no surprise that "Maroon" is easily the most popular song of the bunch. With an upbeat, quintessential 60's tone and lyrics that rhyme and roll throughout, this ode to brownish crimson is, above all, a people pleaser.
"Green"
Green isn't your average troublemaker. Take a listen and you'll see/hear why.
"White"
White has gotten a bad rap for being boring, "vanilla" or too, well, white. But Nordine urges us to take a closer look. All whites are really off-white whites, and a pure and true white-white can only exist within the confines of our dreams.
Powerful stuff, am I white?
"Magenta"
Nordine reimagines magenta as a high-society gossip columnist who throws major shade at fuchsia. I can't think of a more fitting profession for a color that is equal parts violet and red.
"Hazel"
The jazziest of the jazz songs, "Hazel" recounts a story of a color that tries to take on too much. But can you really fault her for trying?
"Flesh"
Flesh is one of those colors that's inherently racist in most contexts. Since this album came out at the height of the civil rights movement, it should come as no surprise that Ken Nordine tackles this problem in his purposefully poetic way.
When he asks you to consider the singular color of the spirit, try to keep your expanding mind from full-blown exploding.
You can listen to the entire album on Spotify, or listen to all the songs linked together in a YouTube video. Either way, you're sure to never see a rainbow the same way again.