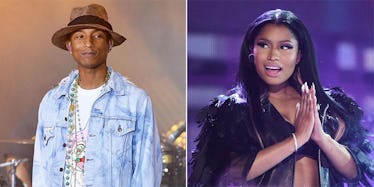 5 Hip-Hop Collaborations We Hope To See in 2016
Getty Images
In one of the most saturated years the hip-hop world has experienced for some time now, the latter part of 2015 saw music fans awaiting the release of a project created by two of the most radio and club-dominant artists of today.
The collaboration between Drake and Future, entitled "What A Time To Be Alive," was blessed with production from notable Atlanta-based producers Metro Boomin and Southside, as well as, OVO's Noah "40" Shebib and Boi-1-da.
Both artists are riding off their own, separate momentum, making bangers almost effortlessly.
On July 17, Future released his third studio album Dirty Sprite 2, where Drake hailed as the sole feature on "Where Ya At."
And if it weren't for Meek Mill's antsy Twitter fingers, in which Drake responded with singles "Charged Up" and "Back to Back," we probably wouldn't even have heard much from October's Very Own (but then "Hotline Bling" happened).
Now ever since WATTBA was given to the masses, the fans wanted to witness another collaboration from the two of music and rap's top guns, Kendrick Lamar and J. Cole.
A collaboration tape had been rumored ever since Watch the Throne was released, but both rappers denied reports.  However, these rumors have returned recently, since both Kendrick and Cole dropped separate singles named "Black Friday," last week.
Even though this tape needs to happen just so we can hear that level of great artistry, there are other collaborations which would also provide us with amazing music:
1. Schoolboy Q and A$AP Rocky
K-Dot's T.D.E. labelmate Schoolboy Q's first studio album, Oxymoron, harvested hits such as "Collard Greens," "Studio" and "Man of the Year" and gained him a Grammy nomination for Best Rap album of the year.
A$AP, coming off his recent release, At Long Last ASAP featured bangers such as "Lord Pretty Flacko Joyde 2" and "M's" but had more of a psychedelic rock vibe as most of the album was recorded in London.
Featuring on each other's projects, Q and Rocky have developed this chemistry that will surely provide club bangers and speaker knockers.
Furthermore, both the T.D.E. and A$AP crews have a bond that has been apparent since both crews created buzz around the same time period.
Past Collaborations: "Brand New Guys,""Hands on the Wheel," "PMW," "Californication" and "Electric Body."
2. Travi$ Scott and Young Thug
Let's be real: Have La Flame or Thugger taken an L lately? Both aren't hip-hop in a traditional sense, but are definitely redefining music leading a crusade of new-age fans along the way.
Travi$ just dropped his first album, Rodeo which served as a sequel to last year's mixtape, Days Before Rodeo in which generated major buzz.
A walking enigma, Thugger has been able to hit us with trap induced melodies not heard since "Stoner" and "Danny Glover" served as his breakthrough tracks.
Since then, he's provided us with constant bangers via the Rich Gang tapes, Barter 6, Slime Season and an array of leaked work.
With links to top new producers such as Metro Boomin, Vinylz, Southside and Wondagurl, fused with the legendary Mike Dean, this album will for sure be for the new-age ragers.
Past Collaborations: "Mamacita", "Skyfall" and "Maria I'm Drunk."
3. Childish Gambino and Chance the Rapper
Here to provide all of the quirky and fun vibes you will ever need amongst two rapping, singing, crooning souls are Chano and Bino.
Chance took storm once he dropped his Acid Rap mixtape providing a youthful and soul-igniting sensation, in which he followed up with a free Surf album this past year.
Bino, equally known as Donald Glover, gave the people Because The Internet, displaying his diverse talents both vocally and visually.
There's a certain uniqueness in each artist from sound to overall talent that when fused could create a diverse project that both fan bases will bask in.
Past Collaborations: "They Don't Like Me," "Favorite Song," and "The Worst Guys."
4. Pusha T and Pharrell
This one just doesn't seem right without No Malice, but if Push can prosper without sharing flows with his brother, so can we.
After many individual mix-tapes and classic verses on Kanye West's My Beautiful Dark Twisted Fantasy, he finally released his first solo album entitled, My Name is My Name.
This past month, Push dropped his first Timbaland-produced single "Untouchable" off his upcoming album Darkest Before Dawn, which is a prelude to his King Push album.
He constantly proves there aren't many left in this game who can keep up with him. So instead of finding another rapper to compete with, he chose to work with an artist who has complimented him for some time now.
Coming off his collaboration album with Snoop Dogg, Pharrell could provide that Neptune-vibe that Clipse (Pusha-T and No Malice) strived on during the Star-Trak Entertainment days.
P.S. I contemplated a Jay Z and Pharrell album as well so a feature verse or two from Mr. Carter would be a nice touch to this collaboration.
Past Collaborations: "S.N.I.T.C.H.," "I'm Good,", "Mr. Me Too,", "When The Last Time," and "Grindin."
5. Beyoncé and Nicki Minaj
These will probably -- and by probably, I mean definitely -- end up being the go-to feminist soundtrack that will slay against any competition.
When we scan over the past 10 years in music and pop culture, both have been able to establish queendoms in the male-dominated realm of hip-hop culture.
This past year, Beyoncé dropped a surprise self-titled album with hits that took over the radio such as "Partition," "Drunk in Love" and "Flawless," which will soon be revamped by a verse from Minaj.
Nicki Minaj released The Pinkprint album which debuted at number two on the US Billboard 200 chart.
The radio gave us heavy spins of the album's top singles "Only," "Truffle Butter" and "Anaconda," which won the Best Hip-Hop Video at the 2015 MTV Video Music Awards.
In addition, Beyoncé returned the favor by choosing to feature the queen of rap on the album's fifth track, "Feeling Myself." This collaboration will garner worldwide anticipation and serve as an amazing feminist campaign.
Past Collaborations: "Flawless," and "Feeling Myself."