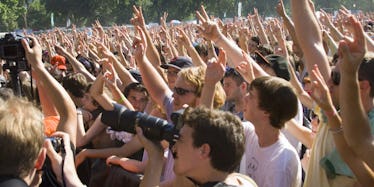 The 5 Best Bands To Check Out At Pitchfork Music Festival This Weekend
You can't exactly call Pitchfork a DIY festival like you were once able to, but the brand synonymous with music culture has become mainstay in Chicago's Union Park. We're now convinced summers just wouldn't be the same without it.
This year, the fest will showcase huge names such as Sufjan Stevens, Beach House and Carly Rae Jepsen, but it's the lesser known bands that will make the enduring the sweaty crowds worth it this weekend.
Here are five of the best underground bands to check out this weekend:
5. Girl Band
Girl Band is the most exciting thing to come out of Ireland since the concept of drinking before noon. The four-piece group hails from Dublin, and seemed destined to break into the US Seattle-area grunge scene since their first gig in 2011.
It makes sense that iconic label, Sub Pop, made an offer for a record deal, though the group had already chosen Rough Trade, based in London. Nods to ageless grunge culture make frequent appearances in the band's style and music; members are often seen performing in Metz tees, and they've become known for their unique garage-noise guitar riffs.
Plays Pitchfork: Saturday, July 16 at 1:45 pm (Red Stage).
4. Savages
Savages made singing about love cool again by exposing it for what it truly is: dark, stressful and weirdly amazing. Songs like "Husbands" from their first album, Silence Yourself (2013), and "The Answer," from 2016's Surrender beautifully showcase a mix of longing and fear, padded under harsh bass strums and rhythmic drums.  The band is fronted by French singer Jehnny Beth and hails mostly from London.
Plays Pitchfork: Saturday, July 16 at 4:15 pm (Green Stage).
3. Whitney
Two Chicago bands, Smith Westerns and Touching Voids, came together to create Whitney. Whitney borrows from the dreamy singing style of both bands, and nixes the fast drums for a more acoustic-meets-piano vibe. This will be the perfect band to chill out to if you need a break from the heat and the massive swarm of buzzed teens.
Plays Pitchfork: Friday, July 15 at 4:15 pm (Blue Stage).
2. Anderson .Paak & The Free Nationals
Dr. Dre, SchoolboyQ and TI are just a few of the artists who have been touched by the production and song writing talent of Anderson .Paak. Despite being involved in various projects since 2011, he was officially recognized as a member XXL's 2016 freshman class.
A la Kanye West, the California-born hip-hop talent was meant to shine solo, but the collection of hits under his belt was none the less great practice. Check out songs like "Milk N' Honey" and "Your Prime" to get a taste of the infections energy and soul he'll be mixing with the Chi-town night crowd on Saturday.
Plays Pitchfork: Saturday, July 16 at 7:45 pm (Blue Stage).
1. Twin Peaks
There's something special about a true DIY band going from playing underground haunts to being a Pitchfork must-see in a few short years. Most members of Twin Peaks have known each other since childhood, but once they added newest member Colin Croom last year, the band was able to come up with Down In Heaven magic.
If you're emo AF like me, you'll enjoy jams like "Sloop JD," and "Heavenly Showers" that were never released as singles, but if you want to get in the pit this weekend, familiarize yourself with tunes like "Making Breakfast" and "Butterfly." Twin Peaks are sure to put on one of the most lively shows of the weekend, so make sure to see what the fuss is about over these local Chicago boys.
Plays Pitchfork: Friday, July 15 at 5:30 pm (Red Stage).