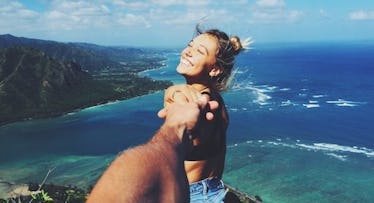 It's Proven That You'd Be More Productive If You Took More Vacations
Americans are obsessed with work. We are addicted to the rat race. Indeed, we are living to work, rather than working to live.
In fact, the United States is the only country in the developed world that doesn't require employers to provide paid vacation time. Around one out of four Americans goes without paid vacation time all together.
Even when Americans are offered vacation time, they don't take full advantage of it. A 2010 survey revealed that the average American accumulates 18 vacation days and uses only 16.
What's more, in 2013, Americans collectively left 429 million paid time off days unused. In 2014, around 42 percent of Americans said they didn't take a single vacation day.
What's the point of making money if you never take the time to enjoy it?
Some might argue that Americans should be proud of this ostensibly strong work ethic. Yet, the fact of the matter is that overworking is negatively impacting both America's happiness and productivity. Consequently, the US economy is also suffering.
As Derek Thompson puts it for the Atlantic:
We mistakenly believe that more hours will always increase output, while ignoring the clear evidence: The secret to being an effective worker is not working too hard.
In short, Americans need to learn how to relax. Humans are not meant to spend the majority of their lives in an office. We need sunshine, fresh air, rest and relaxation.
Taking A Vacation Is Good For Your Health And Productivity
It's apparent that many people are of the opinion that more work equals greater productivity.
In truth, work breaks, even little ones, are proven to improve efficiency greatly. As Phyllis Korkki notes for the New York Times: "A growing body of evidence shows that taking regular breaks from mental tasks improves productivity and creativity — and that skipping breaks can lead to stress and exhaustion."
This is precisely why extended breaks from work, or vacations, are of the utmost important. Our brains need a break from the daily stress of the workplace. Simply put, they need time to recharge. As New York primary care physician Natasha Withers told ABC News:
Rest, relaxation, and stress reduction are very important for people's well-being and health. This can be accomplished through daily activities, such as exercise and meditation, but vacation is an important part of this as well.
Thus, vacations are necessary to sustain both mental and physical health, and, in turn, productivity.
Comparatively, Europeans, who receive decidedly more vacation days (and actually use them), live longer and spend less on healthcare than Americans.
Simultaneously, it's apparent that the US economy would greatly benefit from Americans taking more vacation time.
Help Out The Economy By Going On Vacation
There is evidence that vacations not only improve the happiness of those who take them, but also those around them upon their return. Studies have shown that happiness is contagious. It's also good for business.
Research from the Harvard Business Review has suggested that when employees are happy, they are not only more productive, but also more creative and collaborative. This can translate into higher sales for businesses. As Martin Zwilling contends for Forbes:
Believe it or not, it is possible for employees in business, as well as entrepreneurs, to be both happy and productive. As a business, happy employees lead to success, more than success leads to happiness.
Furthermore, happy employees are not only good for individual businesses, but the economy as a whole. Overworking leads to stress, and stress can lead to depression. It's estimated that US workplaces lose $23 billion annually as a consequence of depression-related absenteeism amongst American workers.
Likewise, a recent study from Oxford Economics suggests that if Americans used all of their vacation days the economy would benefit from more than $160 billion in total business sales and $21 billion in tax revenues. Additionally, spending this could lead to 1.2 million jobs in multiple industries.
It's time for the United States to adopt a national policy requiring all employers to offer paid vacation days.
Concurrently, Americans need to reassess their perceptions surrounding the relationship between time spent working and productivity. In turn, they will find that they're healthier, happier and better at their jobs.
It's true that we all have to pay the bills, and most of us find a great sense of fulfillment via our jobs. Yet, life is fleeting, and it will slip past you if you're not careful. There is a world to be explored beyond your place of work.
We also need to remember to unplug when we go on vacation. Turn off your phone and put away your laptop. If you're constantly aware of what's happening at work, you're not really taking a break.
You're not lazy for wanting or needing to take time off work, you're human.
Citations: Latest research Why everyone should take vacation (The Washington Post), Depression Costs US Workplaces 23 Billion in Absenteeism (Gallup), How To Increase Productivity By Employee Happiness (Forbes), Positive Intelligence (Harvard Business Review), Why Stress Turns Into Depression (Psychology Today), Happiness Can Spread Among People Like a Contagion Study Indicates (The Washington Post), The United States of No Vacation (CBS News), Take A Vacation Its Good For Productivity And The Economy According To A New Study (Forbes), The Case for Vacation Why Science Says Breaks Are Good for Productivity (The Atlantic), To Stay on Schedule Take a Break (The New York Times), Vacations Help Job and Health But Americans Skip Them (ABC News), How To Increase Productivity By Employee Happiness (Forbes), An Assessment Of Paid Time Off In The US (Oxford Economics), Nearly 1 in 4 US workers go without paid time off (Boston Globe)